19. Dec 2022
4 reasons why your fleet needs video telematics
Video telematics are a category of fleet management solutions that allow managers to receive a lot of useful visual information about individual vehicles and the fleet as a whole. The overall market of fleet management is growing – at the end of 2021, the number of active fleet management systems deployed in Europe was 13.2 million, according to a report by Berg Insight.
Therefore, the next step in fleet management is supplementing existing data with video telematics to gain an even more complete picture of all your company vehicles. For example, if a collision occurs, it is possible to analyse information such as vehicle speed or harsh braking. It can provide clues about the cause of the accident, but there would still be a lack of context. That's where video solutions come in. They literally show you what happened!
This is just one of many use cases, though. A fleet camera system offers a large number of possibilities for transportation companies that make it a modern must-have. A separate analysis by Berg Insight on the video telematics market seems to confirm it – the number of devices installed is projected to jump from 0.8 million units in 2020 to 1.8 million in 2025 (Europe). Let's take a look at fleet camera solutions to find out why they're considered the future of fleet management and what value they can bring to your company!
What is video telematics?
Video telematics consist of multiple elements. There is the video camera itself, which is constantly recording. This material goes to a digital video recorder (DVR), which is either a separate unit or built in the dashcam. If the camera is the eyes, then the DVR is the brain – containing digital storage, communication, connectivity, GPS systems and more. It sends data to your fleet management platform, from which the fleet manager can oversee all vehicles in a variety of ways*:
Watch livestreams of any vehicle camera system;
Receive notifications and clips when a special event happens, such as harsh braking;
Access internal camera storage, organise, view, download footage.
*Available functions may depend on specific hardware.
In addition to simply recording footage, modern fleet management video cameras have the ability to interpret it on the fly. They use sensors and artificial intelligence (AI) solutions that can detect different events, both inside and outside the cabin, which can roughly be split into three categories. – Driving Behavior Analysis (DBA), Advanced Driver Assistance Systems (ADAS) and Driver Monitoring Systems (DMS).
ADAS analyze the situation outside the vehicle to provide assists like lane departures or forward collision warnings. DBA checks sensor and GPS data to detect events such as harsh braking & cornering, while DMS use cabin-facing cameras to monitor unwelcome driver practices – smoking, using mobile phone, driving while tired, etc. Events can be configured to be received by both the driver and fleet manager. This data can be later used to analyse situations and educate drivers, or in real-time in order to avoid dangerous situations.
The overall setup and number of cameras depends on the needs of the fleet. There is a variety of options, including frontal, cabin-facing, side and rear-view cameras, as well as trailer cameras. Some advanced solutions create a full 360-degree view around the vehicle to further increase safety.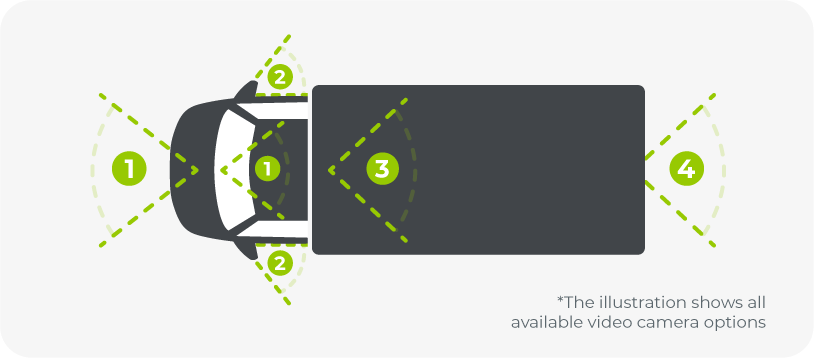 Video cameras can be used in any combination. Since most companies with fleets are interested in front and cabin cameras, some hardware manufacturers offer the so-called dual cams, where a front camera, cabin camera and a DVR are combined in a single unit. For more complicated setups, a separate DVR will most likely be required to connect all cameras in a single network.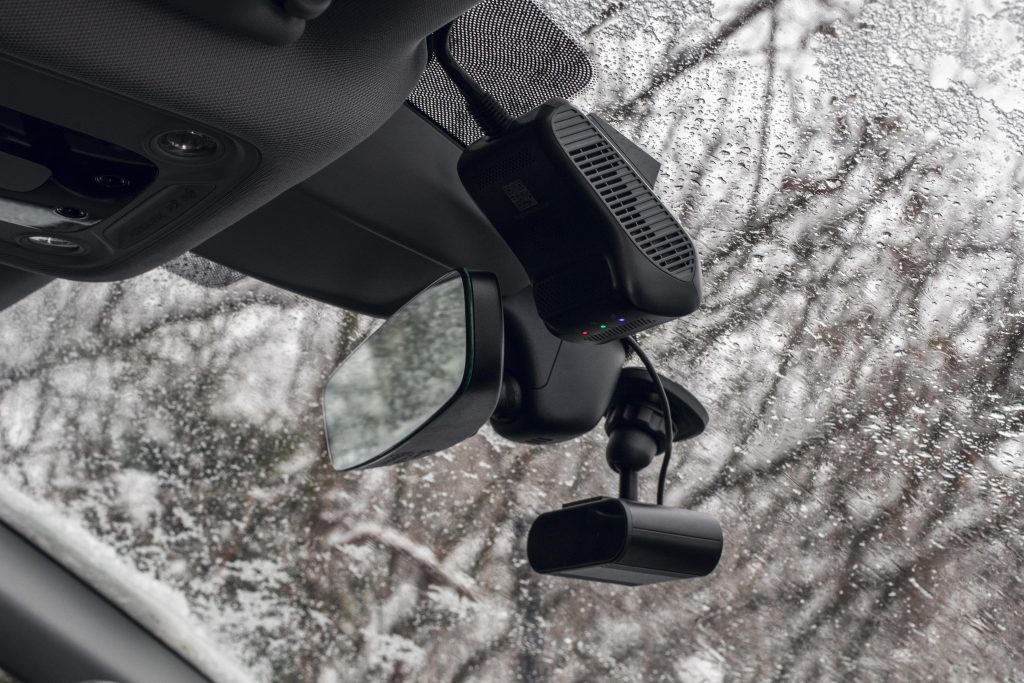 This is the base that you need to know about video camera solutions for fleet management. Now it's time to focus on what advantages they can offer to your company!
1. Get evidence in case of accident or theft
This is arguably the most popular and obvious of video telematics benefits. It makes sense – without hard evidence, the driver can be found guilty of causing the accident, which leads to both monetary and reputation loss for the company. There's a term within the industry for some cases like this – the nuclear verdict. Basically, it refers to settlements of more than $10 million. Needless to say, the cost of a video telematics system would be far less than that, so why risk it?
A fleet tracking system with cameras can not only record the incident, but also provide instant access to footage whenever needed on the platform so that the driver doesn't have to worry about extracting the data and uploading it somewhere. The events system will notify the fleet manager immediately about the accident and provide a short clip; moreover, this data can be used to hand in the first notice of loss (FNOL) to the insurance company in a reliable, semi-automated way. Later, if more context is needed, one can use the memory card function to access the internal storage of the DVR to review and download the unedited stream.
For accident claims, the best option is to have at least two cameras – frontal and cabin, where the former can show the situation on the road and the latter proves that the driver wasn't distracted in any way. However, even one camera might significantly increase your chances of winning a claim.
Side-view cameras can be helpful as well, such as when a property owner accuses a truck driver of causing damage while loading/unloading. Also, if theft is a major concern for your company, then a trailer camera can be immensely helpful in identifying a potential culprit.
2. Understand & improve the driving culture
With all the technology around, it's easy to forget that a person is still behind the wheel.
Often enough, the human factor is what can and should be improved, as it plays a role in around 95% of accidents, according to a European Commision report.
Equally relevant is the finding that 75% of accidents happen due to human errors alone. Here are just a few instances where driving habits can have an effect on safety and efficiency on the road:
Speeding, excessive idling, and harsh braking will cause the vehicle to consume more fuel, leading to unnecessary financial losses;
Getting distracted by the phone, smoking or driving without getting enough rest may delay driver's response time to a dangerous situation;
Line departures, short follow distances and ignoring blind spots all increase accident risk.
Luckily, video telematics software provides solutions to eliminate these behaviours. The main issue in driver behaviour analysis used to be actually detecting less than stellar driving practices. It's not like the driver will just come up and say – yes, I talk on the phone once in a while! With fleet video telematics, managers have a couple of options at their disposal. One can tap into the livestream of any vehicle at any moment to literally see if something's not right. Of course, the chance to randomly find offences in this way is pretty low.
The second, more sophisticated possibility is to rely on video camera sensors which are capable of detecting a variety of pre-configured events. When an event happens, a notification is sent to the fleet manager along with footage – then it is up to the manager to review, download, or delete the material and decide if further action is necessary. Different sensor configurations are possible, from simple overspeeding alerts all the way to detecting driver fatigue.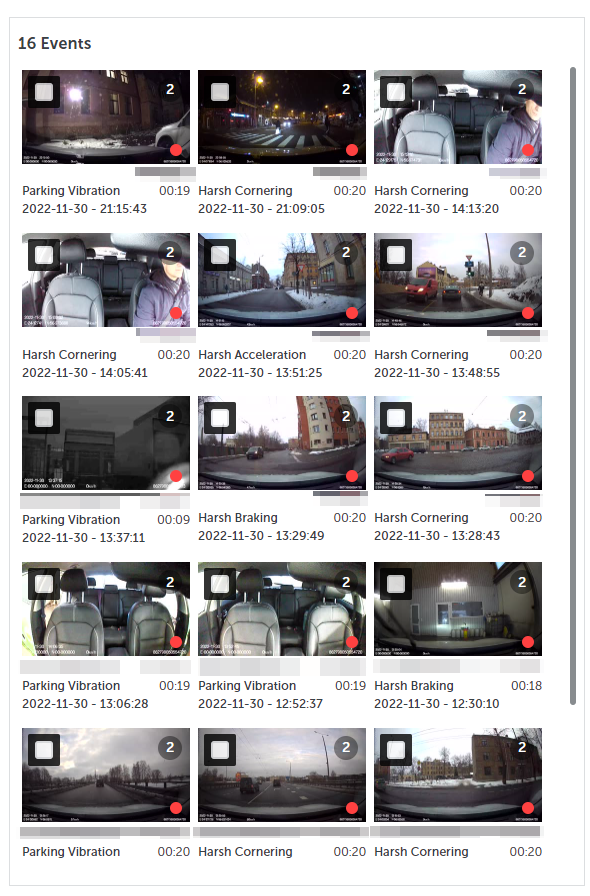 On a broader scale, these solutions can be used to nurture the driving culture in your company, not just solve individual cases. You can keep track of how well all drivers are behaving on the road, then reward the ones with the least infractions – such an approach will motivate everyone to do their best. In contrast, problematic employees with many event detections can be trained to become better drivers, which will improve everyone's safety on the road.
3. Stay ahead of regulatory & insurance requirements
The transportation industry, from vehicle manufacturers to shipping companies, has made safety a major focus in recent years. This drive is partly inspired by a variety of regulations, which are being drafted and enforced to reduce accident risks. For example, there are laws regarding mandatory safety equipment for new cars sold in the EU.
A couple of years ago the EU introduced additional safety standards for new vehicles, many of which are AI dashcam/sensor based. Among them are driver drowsiness and attention warnings, advanced driver distraction warnings, event data recorders and more. These measures are now mandatory for manufacturers, meaning that if your fleet has a mix of newer and older vehicles, it may lead to a safety disadvantage in the latter ones. By using video telematics, you can bring the whole fleet to the same safety standard and ensure compliance in cases when laws or schemes are directed at fleet-owning companies, such as the Direct Vision Standard (DVS) in the UK. It is not unlikely that more regulations like this will come.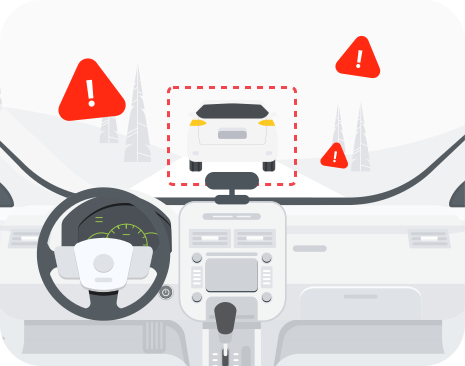 As for insurance, there are two aspects. Firstly, while video telematics systems are mostly not mandatory for fleets to get insurance, they are highly recommended due to sped-up insurance claiming and verification process, as well as higher rates of driver exoneration.
Secondly, the topic of insurance premiums is always popular, as insurance is one of the most expensive elements of fleet vehicle total cost of ownership. Video telematics is a way to potentially get better insurance deals. Though it won't happen right away, in time the insurer will notice the decrease in accidents, as well as the speed and quality with which claims are processed, especially the possibility to reliably exonerate drivers from wrongdoing – all courtesy of fleet video camera solutions.
4. Increase road safety in real-time
Road safety for fleets has a long way to go. For example, the European Road Safety Observatory (ERSO) notes that in 2020 there were 322 fatalities of heavy goods vehicle occupants and 635 deaths of lorry occupants in the EU – that's not counting other traffic participants. Video telematics are not just there to provide information post factum – they actually can help both managers and drivers while on the road.
Advanced driving assistance systems (ADAS), Driver Monitoring Systems (DMS) and Driver Behaviour Analysis (DBA) all help create greater awareness as parts of video telematics software. Depending on the setup, the driver can check the blind spots of the vehicle, make sure that a lane change is safe to initiate, and get reminders to rest or stop distractions. The fleet manager will receive notifications when the system detects issues such as distracted driving, lane and distance violations. They can then tap into the livestream and contact the driver directly to coach, warn or simply point something out in regards to safety.
One more underrated safety feature is the SOS button. The premise is simple – a driver can press it in case of an accident, health complications or a technical emergency to notify the fleet manager. Video telematics software brings this idea to the next level by allowing access to a livestream to determine what kind of help is necessary. Among other use cases, this feature can be especially important if the vehicle spills dangerous cargo or gets robbed.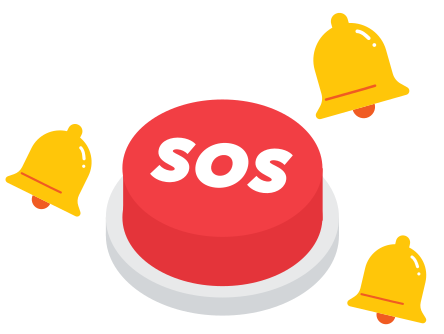 It's time to embrace the benefits of video telematics
Video telematics have proven their worth in multiple ways, from saving money by avoiding nuclear verdicts with proof, to saving lives by improving driving habits. No doubt that this technology will become more widespread in time. If your company is ready for this investment, we can assure you – it will pay off!
Mapon provides the full video telematics solution, from hardware installation to fleet management software. After the setup is done, the fleet manager can easily watch livestreams, receive event notifications and access memory card footage from the Mapon platform. We adapt to your needs by supporting different camera models and setups, as well as software functionality.
If you're interested in Mapon fleet video telematics solutions or have any questions regarding them, feel free to contact us at any time!
Back to all posts
---