01. Mar 2022
How to make your fleet more eco-friendly?
With the EU authorities setting ultimatums in terms of climate goals, it's becoming increasingly important for everyone to pitch in. And while some have already taken their first steps towards sustainability, others are still trying to figure out how. As the transportation sector is one of the largest contributors to harmful gas emissions and at a glance it can be hard to see where we could do better, consider introducing telematics solutions within your fleet. In this article, we'll look at how they can assist you in making your business a little greener while also making it more effective.
Be more effective on the road
Additional pollution is often produced in situations where we choose familiar routes because it seems easier than spending time searching for new ones. This, however, creates situations where unnecessary distances are driven every day, generating an equally unnecessary amount of emissions.
Fleet route planning solutions offer an easy way to reduce the generated amount of harmful emissions by using the most effective routes while performing your daily tasks. It also offers the possibility to reduce logistics costs, optimize your fleet and improve the quality of customer service with timely and predictable deliveries.
With the help of our solution you can calculate routes for multiple delivery points and choose the most efficient ones using detailed optimisation and sequencing. Route optimization takes into account the vehicle size and load capacity, the cargo weight as well as personalized settings that allow you to calculate routes, avoiding toll roads, highways and gravel roads, if necessary.
Take a more detailed look at how this could benefit you in the following articles:
Maximize the use of your assets
As demand grows, you may feel that the existing vehicles won't be able to handle the additional workload. However, more vehicles may also mean standstill situations and more harmful emissions.
But did you know there's an objective way of telling whether your fleet is living up to its full potential? Measure and determine exactly how much you can accomplish with your existing fleet with the help of fleet efficiency solutions.
They can provide the necessary insight into the workload of individual vehicles or vehicle groups, which is measured according to the following criteria:
Efficiency;
Driving time;
Idle time;
The ignition on and off times.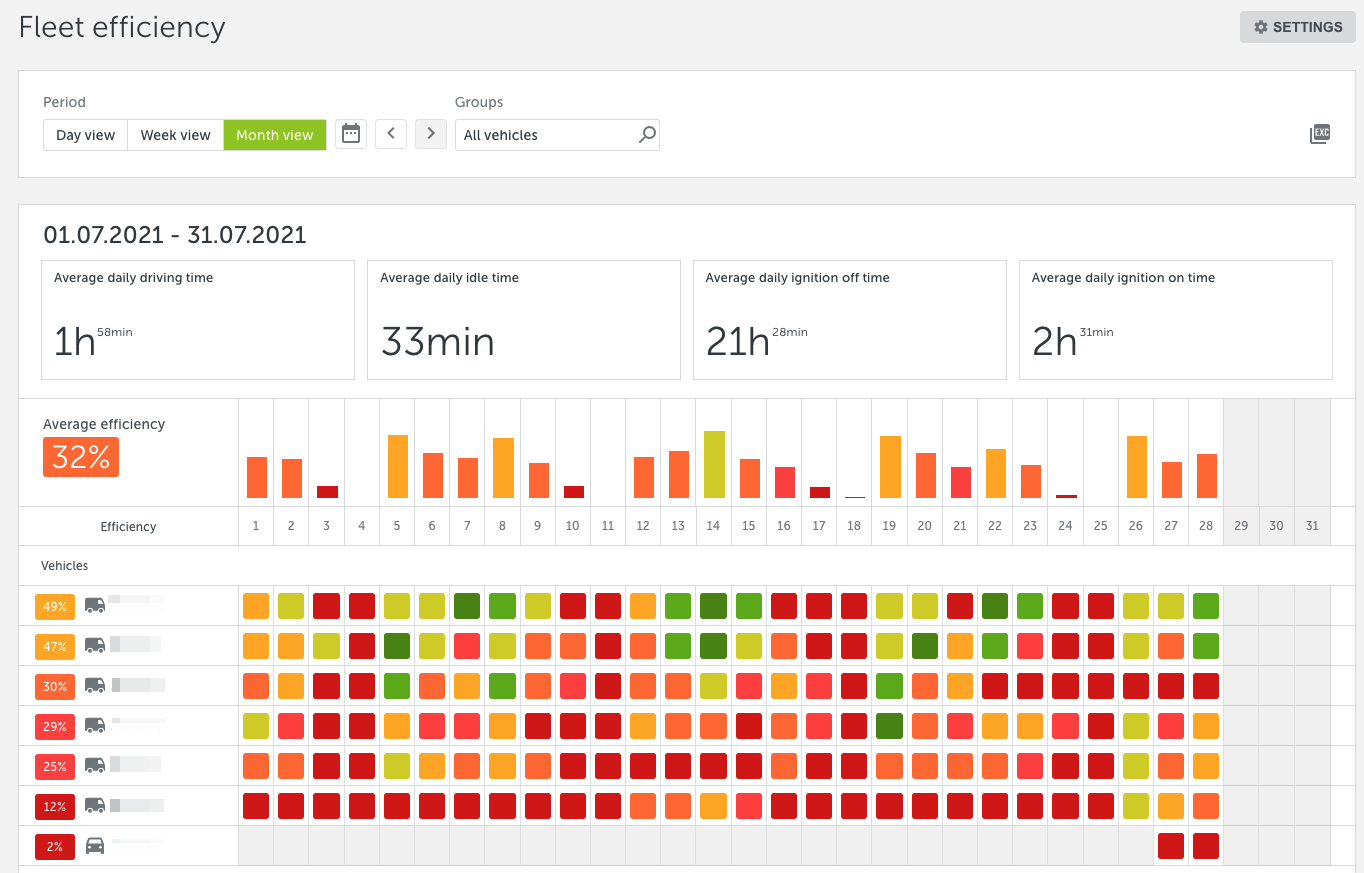 You can view metrics by day, week and by month. The information provided in the summaries will make it possible to assess whether the workload can be effectively redistributed between the vehicles already in your fleet, and make fact-based decisions on whether your fleet needs additional vehicles or maybe even work more efficiently with less.
By taking it a step further and using route planning and optimisation together with fleet efficiency, you'll be able to see whether and how the routes selected by the algorithm affect fleet operations.
Driving culture
One of the most important factors influencing CO2 emissions that is often overlooked is the driving culture aspect of everyday business operations. Excessive idling, harsh braking, acceleration and cornering have a direct effect on fuel consumption. The driver behaviour analysis solution provides an assessment of each driver's performance quality, allowing you to improve the driving culture within your fleet, whilst making it more efficient.
Alternative fuels and electric cars
For some, the most obvious solution is to simply switch out fossil fuels for more sustainable options. This includes alternative gas, hybrid and electric cars. And while we agree that they provide a huge leap into sustainability, they're not always easy to implement, it requires funds to do so. But the good news is that whichever you choose, there's a way telematics solutions can be of assistance to further your goals!
First and foremost, fleet fuel management. This solution will help follow up on how much fuel is consumed by your fleet on a daily basis, and take accurate account of fuel consumption both in real time and in the form of reports that show you the CO2 count from each vehicle. Alternatively, if you've switched to electric, you've pretty much already gone the extra mile for the environment. Nevertheless, our team is actively working on solutions that may help you make the most out of your electric vehicles.
Take a chance to go paperless
And, finally, while going green for a transportation company mainly means reducing fuel emissions, there's more you can do! If you've ever taken the time to notice how many paper forms circulate the office every day, you'll agree it's a lot. Maybe too much?
Take a chance to digitize any and all paper forms your employees go through every day. Digital forms mean less paper as well as less emissions going back and forth to exchange them. Because the solution is integrated into our Mapon GO 2022 mobile app, your employees will be able to fill in any form at any time and even include a signature. Less paper, less hassle and less waste!
If you want to know more about our solutions and how they can help your fleet become more environmentally friendly, contact our team!
Back to all posts
---