12. Sep 2023
Holkan: "With Mapon we expect to achieve great results!"
At the end of spring 2023 we reached a milestone – 200,000 devices connected to the Mapon platform! Such an achievement has been made possible thanks to our clients and partners. Therefore, we invited Oscar de la Cruz, CEO of Holkan, our white label partner in Mexico, to an interview as they were the ones who connected the 200,000th device.
When and how did you get into the telematics business?
14 years ago we spotted a business opportunity offered by GPS tracking and as the main partners that made up Holkan, we already had the experience of automotive workshops, as well as knowledge of the IT sector and technology to implement such systems.
In Mexico, tracking solutions were necessary mainly for security reasons and not for telematics or fleet management. The main needs at that time were vehicle location tracking and blocking of the engine in case of theft – unfortunately the increase of crime is still ongoing. Nowadays, a tracking system is essential to transportation companies for management, logistics and security. With Mapon we cover all parts and can continually prepare new services, accessories and solutions that our customers need.
How and when did the cooperation between Holkan and Mapon start?
When we founded Holkan, we were developing our own tracking platform. Over time, we realized that software development, upgrades and new services required large investments and time, which made us deviate from the main business objective. In order to stay competitive in the market and not lag behind, we had to invest resources and personnel in the development area, which was the main reason to look for a third party white label GPS tracking platform that offered these updates and focus more on the GPS and monitoring service.
"When we discovered the Mapon platform, we saw several advantages compared to other distributed platforms in the region. Mainly – the services we were looking for and the integration of them in a single platform, as well as the constant updating of new functionalities and being compliant with the requirements of the region."
What do you think Holkan and Mapon have in common?
The strength to meet the needs of clients, to seek growth in the telemetry field and to advance the transportation services in the region. We understand that changes happen daily and being up to date regarding the needs of local clients is essential to keeping them loyal to the brand.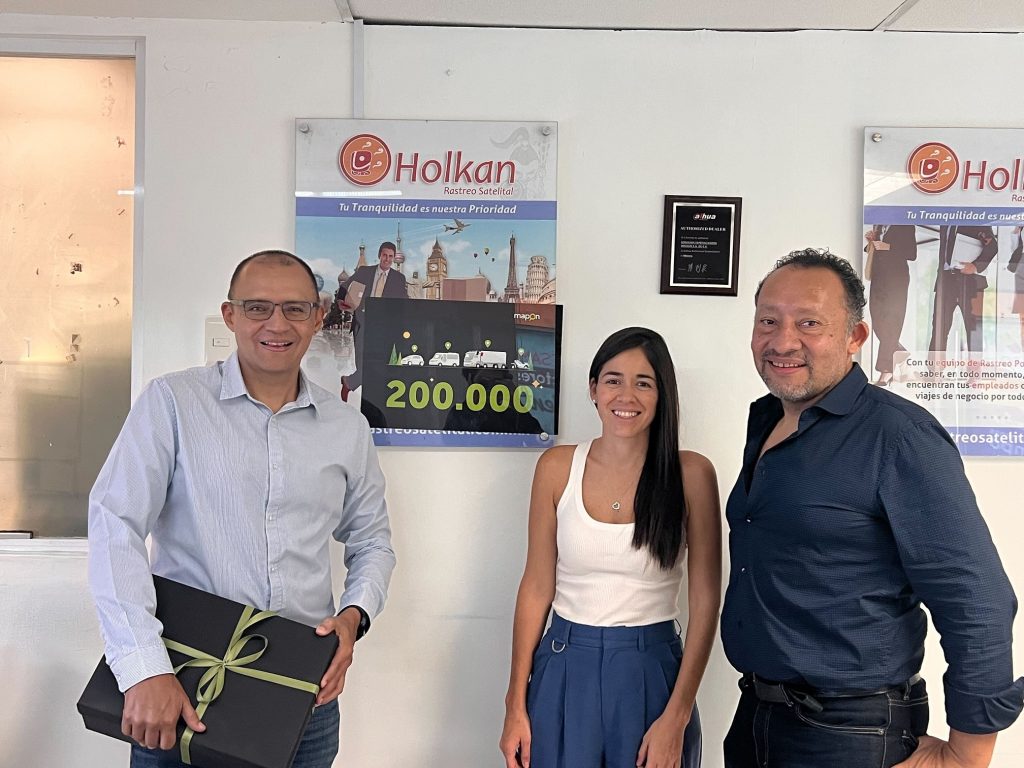 We stopped by the Holkan office to congratulate them on the achievement!
Do you think there is a lot of competition in the LATAM market? What is necessary to stand out?
There has always been competition, and with the reform of Article 39 of the Law of Roads, Bridges and Federal Autotransportation in CDMX and the State of Mexico in 2016-2019, it became mandatory for passenger transportation to use GPS tracking, so an infinite number of GPS companies emerged without a solid infrastructure. This damaged the image of genuine tracking companies and generated uncertainty in clients who wanted to choose reliable solution providers in the sector.
We have had the support of different security organizations in the country. We also belong to associations in the field that provide quality services to our clients so they can be sure that they are working with a reliable company.
In Mexico, security continues to be the main issue and customers are looking for local companies that can provide the best services – from installation to after-sales. Therefore, in order to stand out, it is necessary to cover the current needs of the region, as well as to have a solid platform that ensures the professionalization of cargo transportation.
As a white label partner, how do you use the Mapon platform?
With the Mapon platform we offer services with high quality standards, as well as provide the most up-to-date solutions on the market.
The platform is the main key to the business and it has been easy for us to implement. Above all, it has fully covered our business needs.
How did you feel when you learned that Holkan was the one to connect the 200,000th tracking device to the Mapon platform?
That we still have a lot of room to grow! I would like to connect 10% of that amount and I hope, together with Mapon, to achieve great results in a short period of time.
What do you value most about working with Mapon?
The communication with the employees, as well as the openness to cover very specific needs.
"During this time that we have worked with Mapon, we have asked them for a couple of changes in the platform and they have helped us to implement them as soon as possible."
What advice would you give to someone just starting their telematics business or looking for a partner?
No business is simple! Any telematics company should aim to be a fundamental part of the client's business operations and ensure high quality service standards.
If you are interested in joining our large network of distributors, please do not hesitate to contact us! You can learn more about the benefits of a partnership and how it works on the white label fleet management page.
Back to all posts
---