26. Oct 2021
How to automate toll paying in Hungary via e-track?
With integrations you can join functionalities of different systems you use, therefore increasing the capabilities of each system and making working with them more convenient. It allows you to save your time because instead of inputting data in two places, you can simply do it once. Instead of switching between systems, you can just open one. And so on. That's why we're offering our clients the opportunity to use the Mapon platform's integrations with the leading transportation and logistics industry IT systems and digital tools.
One of them is e-track – a telematics solution provider offering different personalised services with the aim to ease the communication process between parties involved in the freight carrying process – from suppliers to shippers, carriers, customs, wholesalers, customers and others. E-track is also the only independent e-toll declarator for the Hungarian toll road system.
By activating the integration between Mapon and e-track, you allow GPS data transfer from the Mapon platform to e-track, therefore making it possible to use the automated toll road service in Hungary. It lets you avoid paying any fees for unpaid tolls due to human error and saves time used for managing payments. This way drivers can focus less on keeping track of toll roads and focus more on driving.
How to set up the integration?
To activate the integration, head to the Settings menu on your Mapon platform account. There, click on the e-track integration tab. Then click the REGISTER VEHICLE IN E-TRACK button for vehicles you wish to activate the integration for. From there, you can toggle GPS data transfer on or off with a switch next to each vehicle. See the complete how-to guide for setting up the integration in this instruction.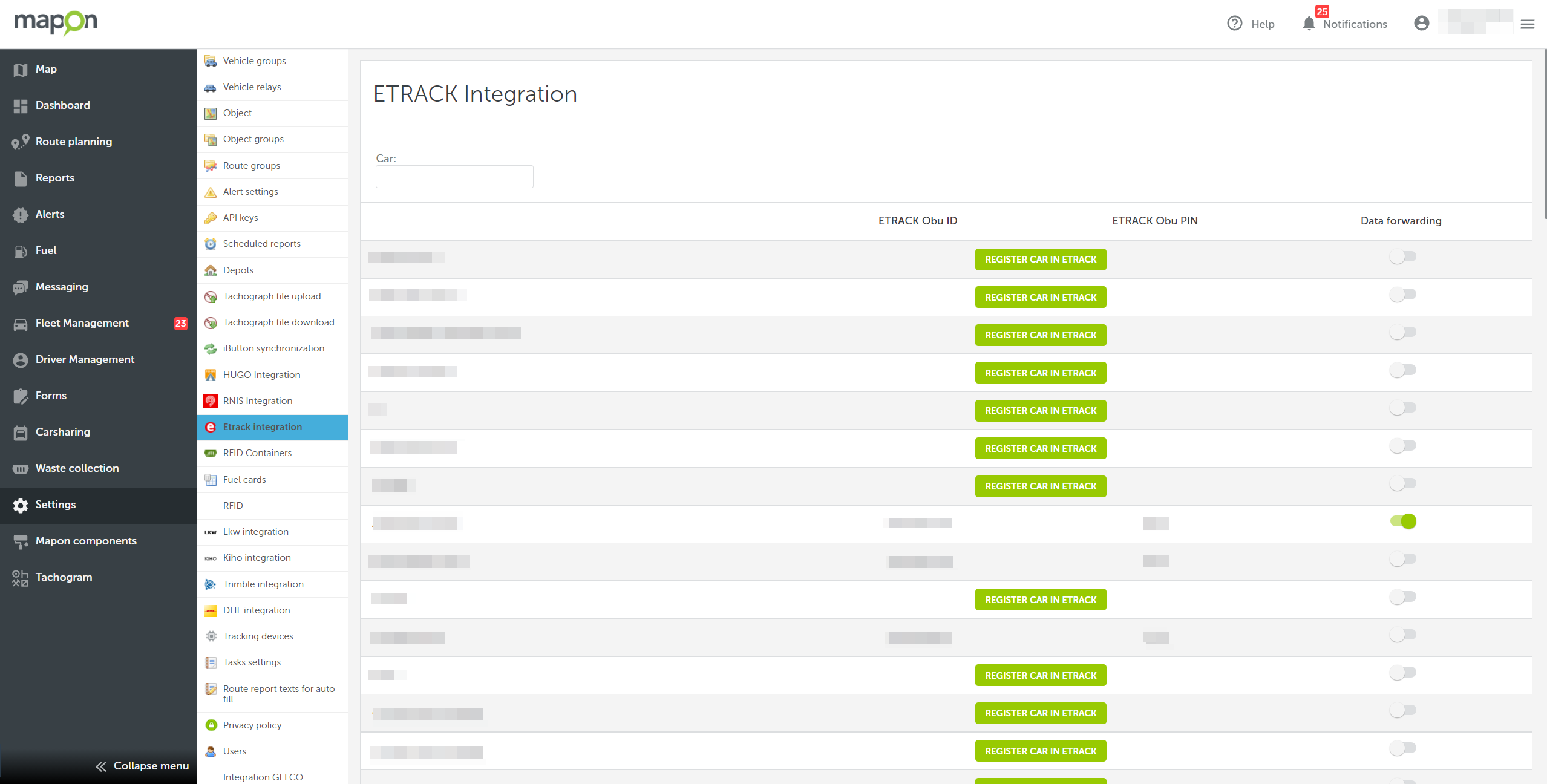 You can see the full list of available Mapon integrations on the API integrations page. If you're interested in finding out more about integration options or want to try out the Mapon platform, feel free to get in touch with one of our client project managers or contact us via info@mapon.com.
Back to all posts
---