20. Dec 2021
Driving forces for telematics in 2022
For a couple of years now we've shared our insights into where we believe the next year will take us. And it's not really guessing as much as taking a step back to look at the big picture of what's happening. We're happy to see our train of thought has come close to where we are today and on that positive note – share how we see the telematics sector unravelling in 2022!
Sustainability
Once you start going into a specific topic, you can't help but see it everywhere you look! This has certainly been the case with Mapon and sustainability. In 2021 we started looking into this more closely to better understand the needs of our clients, and were surprised by the amount of work and means they've put into being more sustainable and complying with their corporate goals. Amazing!
In response to this, we did a client survey and management training on sustainability to raise awareness of ESG and reporting. We see this as an emerging trend that will be one of the reasons for companies to use telematics solutions in the future. And for the Mapon team this is an opportunity to help our clients with ESG reporting and keeping track of their environmental and social goals right now.
From the market perspective we still see route optimisation and driver behaviour analysis solutions as essential parts of the sustainability journey for our clients. The easiest way to save on emissions is to avoid driving excess mileage. With solutions like route planning and optimisation you can easily reduce the driving distance and, thus, minimise emissions. Meanwhile, solutions like mobile applications for drivers where they receive exact, pre-planned routes and route deviation alerts are there to help with daily operations and make sure drivers are using the most optimal routes.
Energy costs
For the past few years there's been a general consensus that electric vehicles are the future, because even though they're more expensive to buy, they're cheaper to operate. The governments are also very active in providing subsidies for going electric, actively building infrastructure and for a while it seemed as though it was snowballing towards mass-market adoption.
Unfortunately, 2021 has made corrections to this as the spike in electricity prices across Europe has put fleet electrification somewhat on hold. Where does that leave us?
Fleet migration and operation costs are significantly higher than with ICE vehicles and the change itself comes with such limitations as charging time and vehicle range, that require you to rethink your entire business operations. This begs the question – why would anyone switch?
We strongly believe that unless the energy prices return to what they were, this aspect might put many fleet electrification projects on hold. Despite that Mapon is still actively learning and looking to adapt to fleet electrification and management. We've already bought some electric vehicles of our own that we're testing to make sure we fully understand the daily challenges of using them.
Apart from electrification, such aspects as fuel management and fuel theft prevention are also returning to the table. We've experienced a decrease in fuel prices in the recent past and with the prices coming up again, the motivation and risk of theft is reappearing along with it.
Chip shortage
If your business relates to hardware in any way, you probably know what we mean. The pandemic has significantly shifted the demand for various types of electronics. Over the course of last year we've heard a lot about vehicle manufacturers stopping their production lines, experienced shortages of components for our own hardware and seen third party manufacturers raising prices for existing hardware models. We've even redesigned our own hardware to avoid the missing components and know others who have done the same.
From our own experience with suppliers, we don't expect it to resolve in 2022. People will continue to struggle in making sure there are enough tracking devices available. We also fear an additional increase in price that, no doubt, will also be at the end consumers' expense. So if your business involves hardware – stock up! It just might be your competitive advantage next year.
And in case your business depends on a single hardware provider, it's high time to rethink your strategy and choose (or maybe even build) a software platform that supports multiple hardware vendors.
Regulation changes
As a European market player we see quite a few interesting things happening in terms of rules that are coming into force and affecting both, the companies we work with and other fleet management software developers like ourselves. Last year the Mobility package 1 came into force and the enforcement timeline was set up.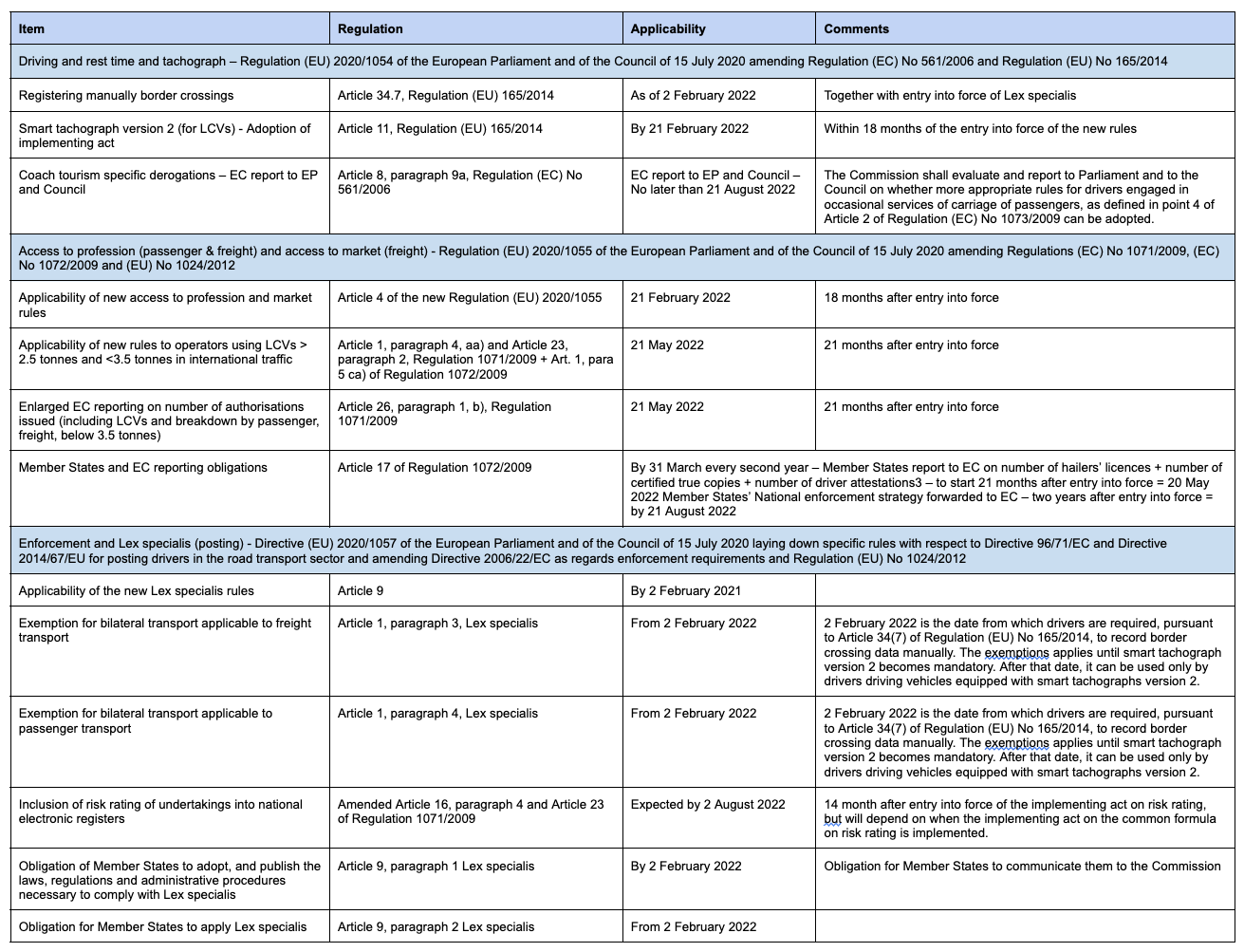 The year 2022 has several milestones set. For example, new rules regarding posting of workers will come into force. There will also be additional requirements for managing digital tachograph data, progress for requirements in regards to equipping LCVs under 2.5t used for international transport with digital tachographs, etc. With these rules coming into force, fleet management system providers will also have their hands full in order to help clients comply with them.
But how did the telematics market look in 2021?
Before we go, we'd also like to look back on our predictions for the past year to see how close we were to what we've actually experienced. Bear with us and see, if you've noticed the same.
Migration to 4G
One of the trends we were discussing last year was with regard to some countries switching off their 2G networks and others even 3G networks and, thereby making hardware manufacturers move to 4G.
Mapon also made the decision to stop producing 2G units this year and we see that other hardware manufacturers such as Teltonika are also starting to speak publicly about moving to 4G.
If you're operating in a local market, the situation is fairly predictable and you should be able to go with almost any type of technology. However, when it comes to working with international customers and long haulage, in particular, you cannot predict where the truck will go in a week, month or a year. Currently, Switzerland has switched off its 2G network, Norway has switched off its 3G network. So if you're working with international customers within Europe, there is no other choice but to migrate to 4G devices as soon as possible!
The events (still) happening mostly online
In our experience, online events proved incomparable with an in-person experience in terms of communication that would lead to new partnerships or high quality leads. So we decided to skip all of the virtual events and rather visit the in-person events as guests or exhibitors. However, from what we experienced they're also not what they used to be. There's a lot less exhibitors and a lot less visitors.
This year we visited and/or participated in such events as the Commercial Vehicle Show 2021, GITEX Technology Week, World Expo 2020 and Expo Seguridad. Our highlight this year was GITEX Technology Week in Dubai where we returned after having to miss a year due to the pandemic.
What we saw was that visitor traffic in the event was a lot smaller than previously, while the leads that came proved more serious than before. Why's that? We believe that although fewer people attend exhibitions, those who do have a genuine interest in doing so.
Resuming investment projects
When the pandemic first hit, a lot of businesses put their immediate plans on hold, because no one was sure of how things would progress. After the panic wore off and with the situation going back and forth in terms of overall public health and different restrictions imposed on a national basis, businesses quickly adapted and resumed work on their projects.
Recovery and the role of telematics
The recovery from the pandemic has completely changed the way people work and do business. Mapon has essentially doubled its team by onboarding over 60 new employees this year and yet – stayed in the same office space. As we go forward, we plan on continuing remote work and using the office space only as a meeting point. We see this same trend all across the business landscape and this is where telematics solutions come into play. In order to work efficiently while being outside the office, you must have means of gathering data remotely. As long as everyone can be reached and can have access to the same information, nothing's stopping you to do what's best for your business.
2021 has been a year of facing new challenges and adapting to the everyday that seemed impossible not that long ago. We hope that 2022 will let us all settle into the new normal and allow the telematics field to thrive. Only time will tell!
Back to all posts
---