04. Feb 2022
Mapon Expert – an advanced telemetry device for effective fleet management
When Mapon started out, it was common for fleet management service providers to develop their own hardware, as very few mass market tracking devices were available at the time. While years have passed and telemetry hardware is now widely available, Mapon is still developing its own hardware units in parallel to using mass market products.
In-house made hardware allows us to build on our original design by simply upgrading the firmware (and software) as we go. To give you an idea of the latest changes in our firmware development, take a look at what the latest upgrade has brought to our Mapon Expert GPS tracking device.
Integration with alcohol interlocks
Mapon has been developing the alcohol interlock integration for quite some time now and we've also included it into our official firmware version, making it available for all Mapon clients. 
The use case is very straightforward – the alcohol interlock device blocks the vehicle's engine until the driver has successfully passed a breath test, proving his breath alcohol levels are within legal limits and he's safe to drive.
While mostly optional, there are countries where alcohol interlock systems are mandatory for specific industries, for example, passenger transport in Norway, Sweden and Finland. Although costly, the solution radically reduces risks of traffic accidents caused by driving under influence.
Currently, Mapon Expert devices support Drager IL7000 and Dignita AL100 alcohol interlocks. This integration provides:
Real time test result transmission to the Mapon platform;
Permanent storage of all test results in Mapon platform;
Option to request additional tests in any time;
Overview interlock service information (calibration dates, problem codes, etc.) via Mapon;
Remote engine blocking via interlock (no additional installation relay required; Dignita device support only).
Integration with weighing systems
Vehicle and trailer weight is an important data point for any transport company, as weight load limitations are strictly regulated and can lead to large fines for those travelling with overweight cargos. The reason is that too much weight on an axle can reduce braking efficiency and cause brake fade, leading to accidents. Unusually heavy loads can also damage roads.
When talking about regular trucks and FMS connection to CAN, we generally get data on axle weight via these connections. However, if there's a specific aftermarket system installed, there's a chance that the data is only available locally on the vehicle. Meanwhile the key to avoiding fines, accidents and vehicle breakdown might be providing full transparency for the dispatchers by getting the data to the office. The latest firmware version of Mapon Expert devices contains an integration with the VEI Traiload weighing system, which allows you to get precise data from these measurement systems to the Mapon platform.
However, it's not only important to be in line with the relevant laws and regulations when transporting goods. If you're in the transportation business, you'll probably also want to effectively maximise and keep active track of your cargo.
If your entire cargo load is heading for a single customer, the process is very straightforward – you have some paper or digital documents like CMR, which are tied to the cargo. But tracking the amount of material transported becomes more complicated, when you have multiple cargo loads that are filled on-site and are heading off to multiple customers.
In order to solve this problem, various advanced weighing/tracking systems are being installed in the vehicles as aftermarket solutions. The issue here, once more, is that the data stays locally and is hard to extract on a timely basis. To help with this, our team has also set-up integrations with the VEI Millenium5 / HelperX weighing systems that allow you to get precise data from these systems onto the Mapon platform in order to manage the invoicing process in near-real time.
Remote data reading from gritter and spreader units
Road maintenance during wintertime can be an especially sore subject. In several countries authorities actually demand information about the work being done on specific road segments to keep track of the situation.
Regular road cleaning services can be tracked via basic digital inputs and checking whether a specific piece of equipment was turned on. In the wintertime, however, it's not just about checking whether the equipment is on, but rather about obtaining detailed information on the operational modes of the units. For example, how much salt has been spread on the road, what is the angle and coverage, as well as other important inputs that are required for gathering quality datasets.
Just recently the Mapon Expert tracking devices were upgraded to include the integration with ECON gritter units. This allows us to extract all the necessary information directly from the units and provide you with the data on the Mapon PRO fleet management software. From there, all of this data can be summarized in a single report, downloaded and, if necessary, submitted to the relevant authorities.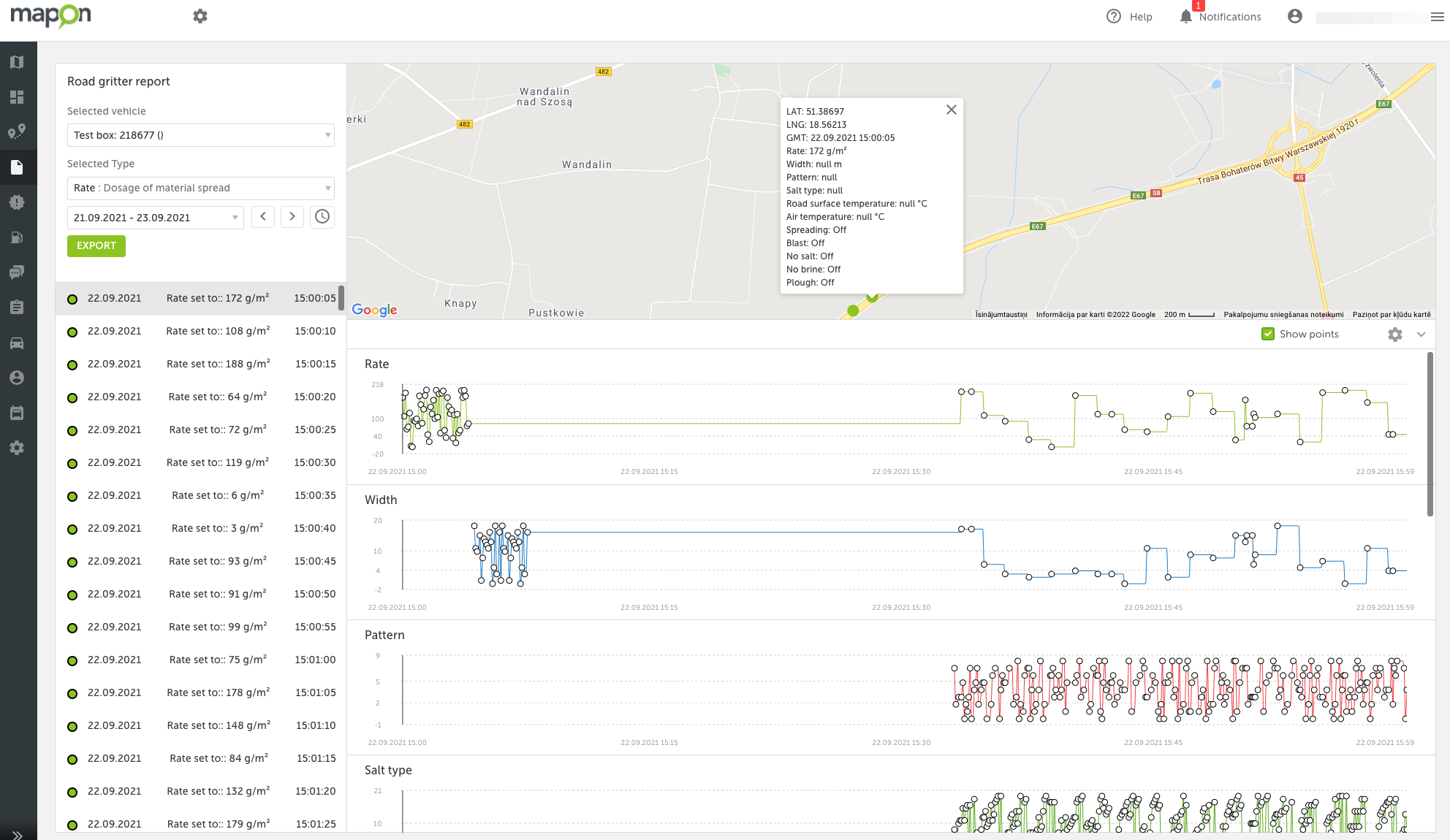 Digital tachograph remote download improvements
Although tachograph remote download procedures are standardized, you still need to verify whether the download works on all of the digital tachographs within your fleet. Just recently we added support for EFAS smart digital tachograph remote data download in addition to the VDO and Stoneridge digital tachographs, which were supported previously.
Temperature readings
Mapon Expert is known for having various options of reading temperature – we can read temperature data via wired sensors, direct integrations to temperature loggers, direct integrations with Carrier, Thermo King, Lumikko reefer units. This time the firmware was updated with additional support for Euroscan MX1/MX2 temperature logger in addition to the existing Thermo King Touchprint logger integration.
Automated configuration presets for geozones
Late last year Poland launched their new road toll payment system e-TOLL. One of the requirements for the toll payments is to provide near real time data with data points every five seconds. Normally telemetry devices can collect data with much bigger intervals to guarantee reasonable data quality.
Changing the default settings of the telemetry units led to a situation where the mobile data consumption skyrocketed. To solve this, we introduced a new geofence functionality, which changes the data collection frequency based on geofences. Although this feature is currently only used to handle toll payments in Poland, we definitely see potential to expand its usability.
Minor changes and improvements
In addition to the several new integrations mentioned above, we've also made several improvements, such as:
Fixes in the driver behaviour analysis solution in case some of the required signal inputs are lost; 
Adding additional data reading from specific vehicles;
Adding new FMS data reading modes, including EBS data;
Reading out tire temperature and other data points which might be helpful either for clients or us as a service provider.
Having an option to work on a hardware level gives Mapon and our partners a competitive advantage against competition working with mass-market solutions or basic solutions.
If you're interested in finding out more about the Mapon Expert device and how to use it, make sure to check out the relevant page. If you have any other questions or are looking to try it out for yourself, don't hesitate to contact us. 
Back to all posts
---