17. Aug 2021
How to use data from Mapon in the Trans.eu freight exchange?
By using integrations you can expand the functionality of the systems you use and in many cases streamline your business processes while doing so. In simple terms, integrations can save you time because rather than inputting data into many systems, you can just do it once.
That same benefit applies to overseeing your fleet – if the information is available in one place, you don't have to switch between platforms to get a glimpse of what's currently going on with your vehicles and drivers. That's why we offer our clients the option to integrate Mapon with the leading transport and logistics industry IT systems and external digital tools.
One of these integrations is with Trans.eu – a freight exchange and logistics platform that brings together shippers, forwarders, and carriers. For shippers it allows ordering transport in a fully automated way, monitoring the load, and comparing transport rates based on current market prices. It also helps to find carriers when the regular subcontractors are not able to carry out transportation by publishing an auction on the platform. What's more, there's also information about carriers including their reputation and credibility, offered vehicles, insurance, awards, and specialisation. Reporting tools and order templates are available as well.
Forwarders use it to automate the process of accepting transport and send out orders to carriers. Trans.eu also lets forwarders link freight to regular carriers and compare transport rates for the route as well as monitor load location and status.
Carriers using Trans.eu can benefit from easier freight offer confirmation from contractors, a simple price offering process in auctions, and load monitoring including status determination. Moreover, a conversation tool can help carriers manage communication with customers by their context and create an archive of highlights. By using the Mapon integration you can automatically get all the relevant data such as each vehicle location, type, capacity, current driver, and other useful information about your fleet from the Mapon platform into the Trans.eu system.
How to set up the integration?
To activate the integration between Mapon and Trans.eu, first, log in to Trans.eu and click on Fleet. If you haven't done so already, add at least one vehicle. Then add a provider in the Telematics section by selecting Mapon in the search box. When that's done, you'll need to head to the Mapon platform and go to the Trans.eu integration tab in Settings. Choose a username and password and then copy these credentials in the previously opened telematics provider selection menu in Trans.eu. All that's left is to log in and start taking advantage of the integration. See the complete how-to guide for setting up the integration in this instruction.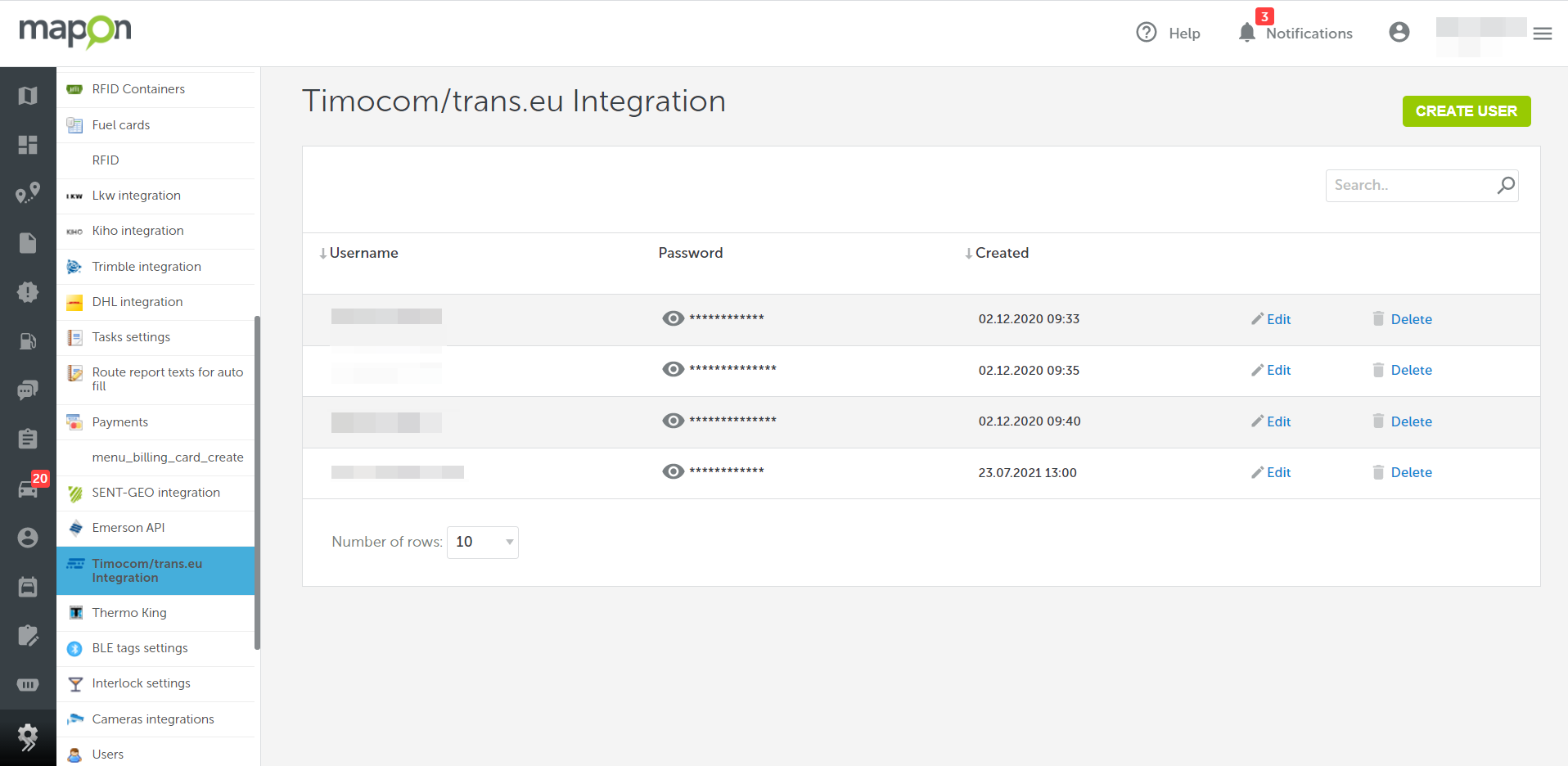 You can see the full list of available Mapon integrations on the API integrations page. If you're interested in finding out more about integration options or want to try out the Mapon platform, feel free to get in touch with one of our client project managers or contact us via info@mapon.com.
Back to all posts
---