20. May 2020
What integrations does Mapon offer?
Automating fleet management processes saves resources and helps to avoid errors. One of the ways to achieve it is by using integrations. It allows you to cut down on manual data entry and switching between different systems to get the work done.
Integration types
The Mapon platform offers various integration options with other systems. They're broadly categorised into four groups: supply chain management, truckload and carriers marketplace, tachograph data analysis and other API integrations.
The supply chain management category includes systems such as Project44, Shippeo, Sixfold and others. The integration with Mapon makes your fleet's vehicle location data available in these systems. It's helpful in case you use this type of system to communicate delivery information with your clients or improve supply chain visibility.
In the truckload and carriers marketplace category, you can find integrations with TimoCom, Trans.eu and LKW Walter. They allow you to receive information about your fleet's vehicle location from the Mapon platform. That, in turn, lets you plan routes and loads more efficiently.
Tachograph data management and analysis solutions like Tachogram, Optac3 and IdhaOnline are intended to let you conveniently store, manage and analyse tachograph data to comply with international driving and rest time regulations. Through integrations, you can automatically send data from Mapon's remote tachograph downloads to these systems for in-depth analysis and data management.
Besides these, there are also other Mapon integrations that help companies with fleet management process optimisation. One example is the integration with HU-GO – an electronic, distance-based toll system for the Hungarian public road network. You can switch it on in the Mapon system and save time by paying the tolls automatically.
Another example is our recently launched experimental integration with Flespi – a solution that provides a unified data communication protocol for various hardware manufacturers and devices. It's helpful for using and accessing devices from other platforms in Mapon, even though they're not directly integrated into our platform.
The full list of Mapon integrations is available on the Integrations page of our website. It's updated regularly as we are continuously working on new integrations that help our clients operate more efficiently as well as expand the functionality of the platform.
Use other systems within the Mapon platform
As of recently, you can also view other systems that are integrated with Mapon as a part of the platform. Thus, you can eliminate switching between regularly used systems completely!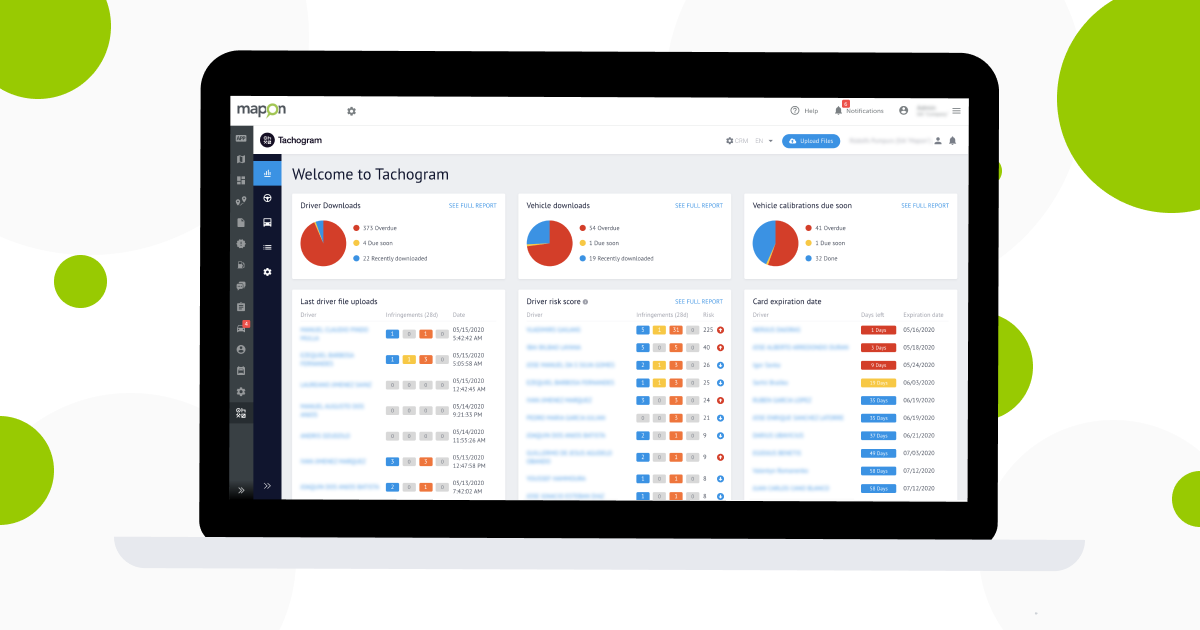 The visual shows how it looks with the tachograph data analysis tool Tachogram being used as a part of the Mapon platform. The same can be achieved with other systems too. The way to do so is described in this technical documentation which is primarily intended to be used by IT specialists.
The integrations mentioned in this blog post are the so-called turn-key or ready-made type meaning that they can be easily implemented. There's also a broader REST API integration documentation explaining how to set up customised integration solutions with the Mapon platform and the types of data that can be shared between systems. 
If you're interested in getting to know more about our integration options or have any other questions regarding the platform, feel free to contact us. We're always open to discuss new integration possibilities.


Back to all posts
---