28. Sep 2021
3 ways of using telematics solutions to ease wage calculation
You may have heard about a multitude of reasons as to why telematics solutions can benefit your business. Anything from tracking your assets and vehicles, fuel usage and expenses to making your fleet more efficient over time. However, we find that there are still very practical yet often overlooked benefits to be gained. In this article, we'll discuss how data collected using telematics can be useful to calculate your employee's wage in a matter of minutes.
1. Digital tachographs – working hours
Most transport and logistics companies in Europe use digital tachographs on a daily basis. This is mainly because of EU laws on drive and rest times and a very strict fine policy for those failing to comply with these rules. Digital tachographs are, therefore, by default made to accurately register data on times, dates and travel periods for each journey, all of which can be useful in calculating wages.
Digital tachograph analysis tools such as Tachogram can help sort out and easily understand all of the collected data. Moreover, Tachogram offers a report summarising each driver's working hours that is designed to show exactly when they started work, how long they were on the road, the time of day spent driving, breaks taken and more!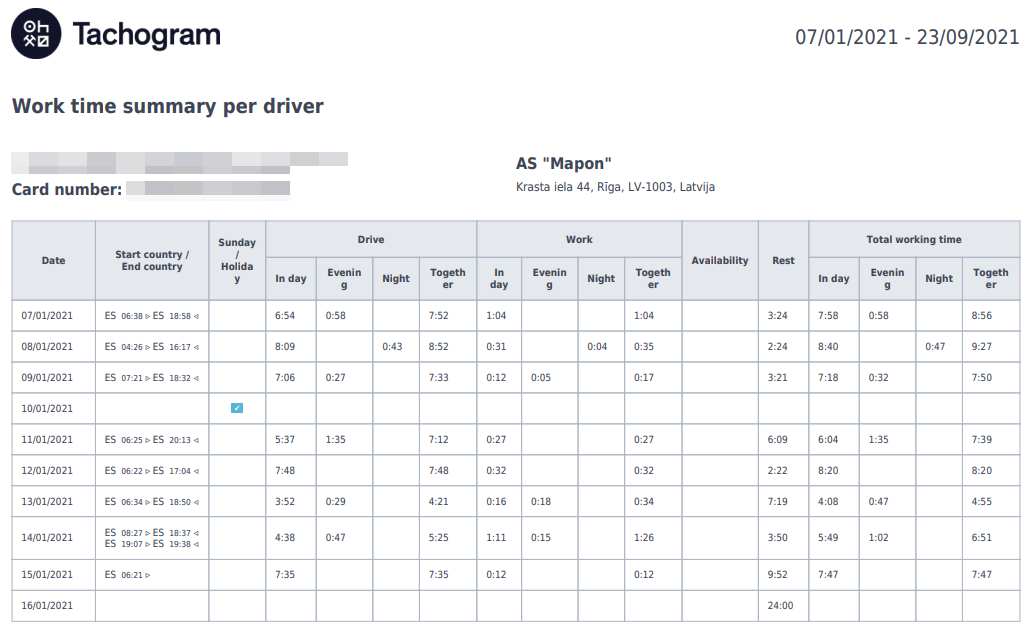 Depending on a companies' wage policy, all of this information can be used to calculate the precise wage of each driver at any given time. Just select the necessary time period and you're all set!
What's more, you can set up automatic emails for your bookkeepers to get this information right in their mailbox or, if you want to take it a step further, Tachogram offers the possibility of API solutions for an information fast track to your accounting system. This way, all of the information will be transferred with the push of a button, making monthly payout much faster and vastly easier!
2. Digital tachographs and GPS data – minimum wage payout
A recent report from the European Commission shows a 179% pay-gap between Western and Eastern European truckers. This explains why certain western countries, such as Norway and Denmark, have set minimum wage limits for foreign truck drivers that do work within their countries.
Digital tachograph data as well as travel data registered by telematics devices is generally considered very reliable by the authorities in Europe. And it's not only with regard to occasional road-checks by the national police, but also local tax authorities. Considering that the aforementioned rules on minimum wage limits are strictly enforced, the fact that you can show precise data on how long of a time your driver has spent in a country, the wage rate applied and the sequential pay-out can be very useful. Especially if you're operating internationally.
Our client VILKS SIA (previously Multilog SIA) has experienced the enforcement of these rules first hand. While making regular trips to Germany, the local authorities started requesting proof of locally set minimum wage payments for their drivers.
By combining vehicle travel data registered by Mapon with the individual tachograph data of a driver's working hours on Tachogram, VILKS SIA has managed to provide precise data to the German authorities, proving they're following the local rules.
3. Other telematics solutions
Keeping in mind that not all employees are using digital tachographs, for instance, one's doing field work in agriculture or construction sectors, or maybe just considering that some companies have different wage calculation mechanisms, there are also other telematics solutions that can help you calculate wages.
All telematics solution providers, including Mapon, offer GPS tracking, making it possible to determine the distance each vehicle has travelled. In case your team uses distance instead of working hours as the base for wage calculations, a report summarising which employee has travelled a particular distance with a specific vehicle, may be just what you need!

Similarly, if your line of business entails employees to show up for work on site, e.g. operating a tractor or a crane, you can use driver identification solutions to register arrival time and shift end time for each of them.
Finally, telematics solutions also provide you with the possibility to adequately and fairly give out bonuses for the quality of work your employees do. For example, the Mapon driver behaviour solution gives a performance rating for each of your drivers. Giving the proper incentive for your drivers and the necessary tools for your managers can go a long way in improving your fleet safety on the roads, and, thereby, reduce accident-related costs. Our client Bertschi did just that and you can read about how that's going. If you choose to have a bonus program in your company, this could be it!
All of the data gathered by telematics solutions mentioned in this article are available on the Mapon platform. There are over 50 different reports showing data that can help make your fleet more effective and, of course, make the monthly wage calculations more accurate and easier! If your team could benefit from improving internal business processes, contact us and our client project managers will be happy to assist you in finding the right solutions for your business.
Back to all posts
---