22. Jun 2017
Sneak peek! Fleet Maintenance product for Mapon clients – functionality and interface!
We have some great news! Fleet Maintenance product is almost here!
We have been working on this product for quite some time, consulting with our clients and industry leaders to extract the main problems with managing company fleet, as well as best tools that could solve the problem in the most convenient way.
We are still working on the product, therefore it is not publicly available, however, we have decided to give you a sneak peek into the upcoming update and product launch to get you more familiar with one of our biggest additions to Mapon software. The product is already in the testing phase and we are working on the last phase adding necessary functionality and fixing any problems that arise. Our goal is to launch a fully functional product that can be immediately used for your company needs.
Fleet Maintenance section consists of four parts:
Fleet,
Service Reminders,
Repair costs,
Documents & Licenses.
Further below we will dive into the details and describe what each section is meant for and take a look at the most important functions.
Fleet
This is the first and the main section of Fleet Maintenance. It allows you to manage all vehicles in your fleet. You can use the dynamic and quick search tool, to find any car searching by car number, car model or other parameters that can be seen in columns. From there you can access specific vehicle profile information. You can also add additional columns for text, documents or other types of media, which will be a useful solution for companies that want to assign or save some specific files to their fleet vehicles. This section also shows overview about upcoming or expired service dates, total distance driven, total fuel consumption and service repair costs, and lets you compare these numbers to the historical data.
Service Reminders
This section helps you to manage your vehicle services by setting up timely reminders about any service that is necessary for your fleet vehicles. It eliminates the need to walk around and check each vehicle physically and keep a track record of kilometres driven, motor hours and other metrics. This section allows you to set a reminder for any type of service and choose one or more of the following three parameters as reminder triggers: distance driven, motor hours, days since last service check/repairment.
Repair costs
This section allows you to easily follow your fleet repair costs – analyze and manage them. Be in a better control over your costs. Add repairment events, additional descriptions and invoices. See how many and what type of additional costs each vehicle has generated. Easily calculate rentability of your vehicles.
Documents & Licences
The last section can be used to easily add and check all licenses and documents that are associated with your fleet vehicles. See which documents will need to be renewed soon and whether any of the cars have some documents that have expired.
Here is a quick overview into the product and its interface. We are also working on system re-design to improve navigation, usability and the overall looks of the system, more on that in the next week.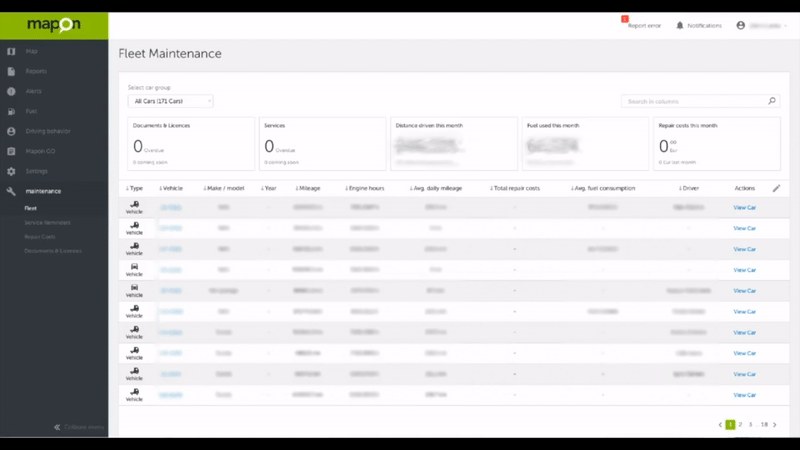 Back to all posts
---