22. Apr 2020
6 solutions to help you digitise fleet management operations
Digitalisation is no news to the business world. However, the current situation with the coronavirus outbreak has significantly increased the need to switch as many business operations as possible to the digital environment. It's especially important for the transportation, logistics and delivery companies that have a crucial role in helping the world to deal with the pandemic. Here's a list of six solutions that could allow your business to digitise and automate many of your daily operations and prepare for the future after the pandemic.
1. From paperwork to digital – change how you do your vehicle inspections
Doing vehicle inspections is a must to stay on top of your fleet maintenance and avoid unnecessary roadside repairs. However, many companies are still using paper forms to do this, thus making the inspection process time consuming and less cost-effective. Switching to digital inspections offers companies a variety of new possibilities. First of all, they can build as many types of inspection forms as necessary for each vehicle group. Secondly, drivers can add photos and notes to inspection files if they find that something is damaged or broken. The managers will then be able to plan timely repairs and reschedule the drivers' tasks, if necessary. Last but not least, the inspections can be scheduled so that both drivers and managers receive automated alerts on the upcoming vehicle checks, thus saving both parties the valuable time.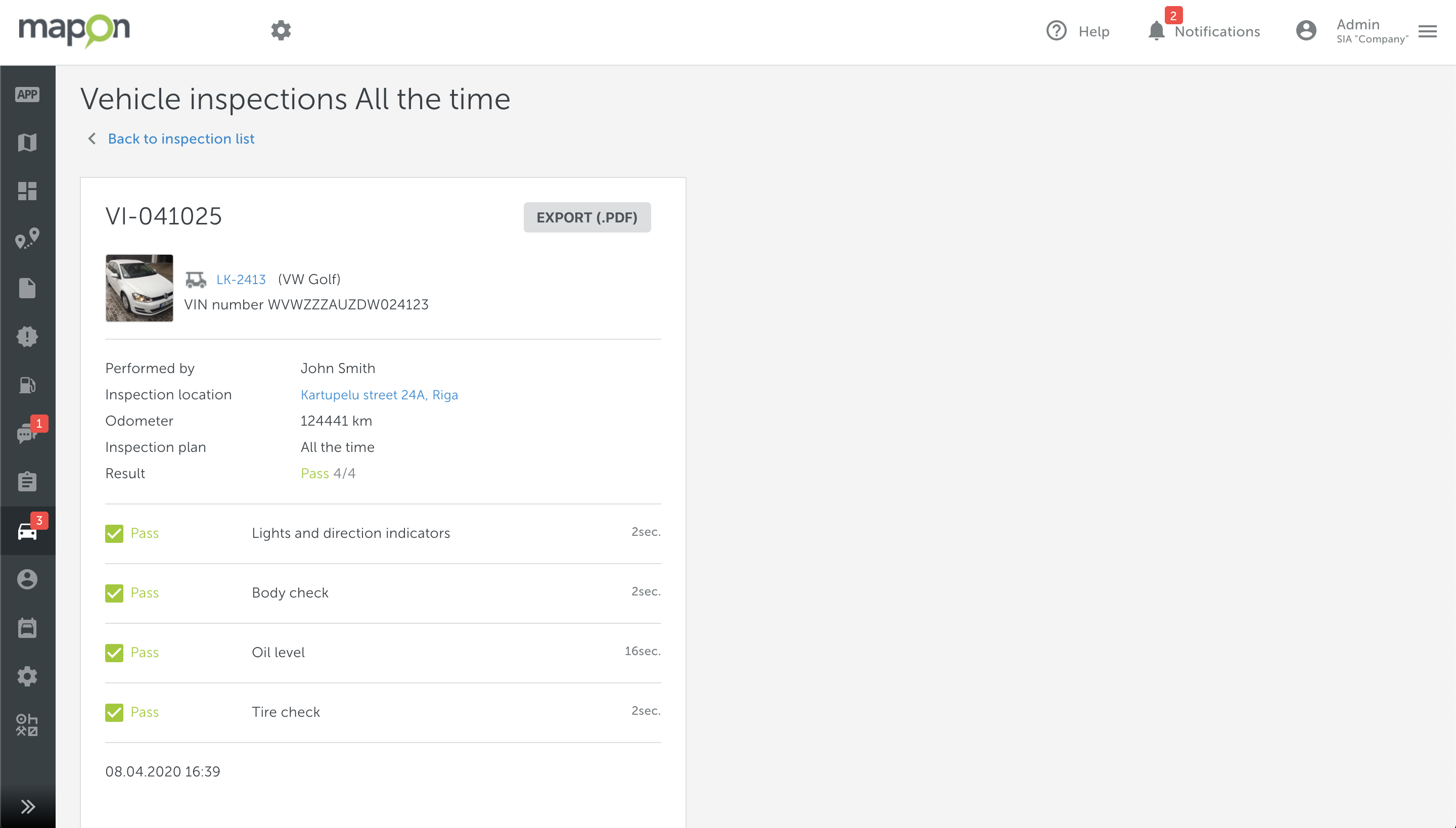 2. Fleet documentation and service reminders in one place
The bigger your fleet gets, the more challenging it gets to keep track of the expiration dates of state technical inspection, licences, tachograph calibration dates, insurance renewals, etc. Having all that data in one platform would significantly ease the management process and allow you to set your focus on business development rather than simple everyday tasks that can be easily automated. The good news is that there is a fleet maintenance solution for this that can help you to organise all your fleet-related data (documents, repair invoices, driver documentation with expiry dates, etc.) and set up automated reminders to make sure no vehicle leaves the depot without having all the necessary documents and licences.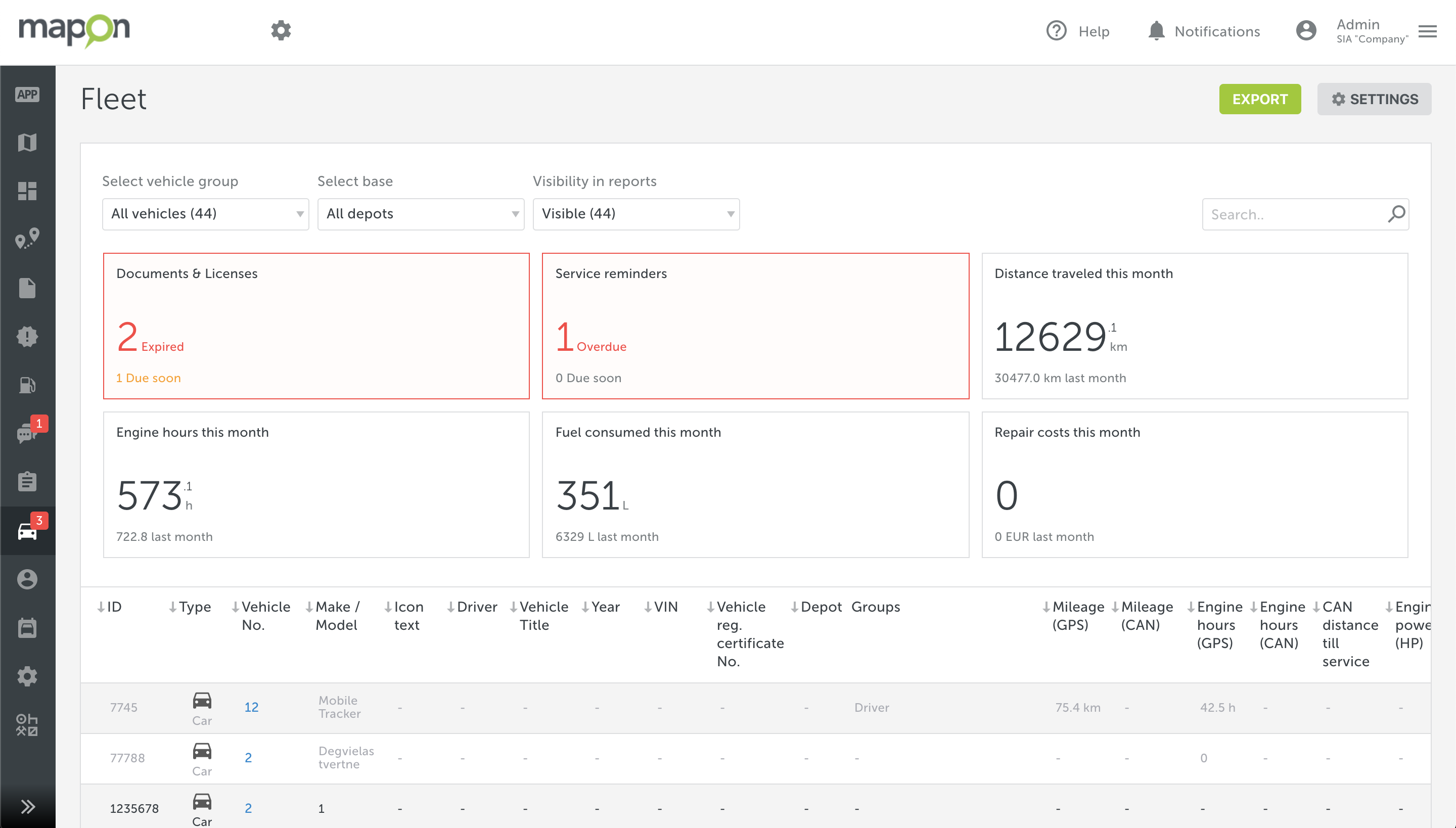 3. Easy and efficient driver task management
Today, the success of any business lies in its capability to provide high-quality services as fast as possible, and transportation is no different. Planning and overseeing the work of tens or even hundreds of drivers while maintaining high standards is quite a challenge, especially without proper technological support. One of the ways to help fleet managers with task management is by using Mapon GO – a mobile application for drivers and field workers that allows them to receive their tasks, work updates and other important information directly to their phones. They can also use the application to report back to the office, as well as send photos and other media to managers before they get back to the hub. What's more, managers can update the drivers' routes while they're already on the road, respond to their requests instantly and see where each vehicle is, thus making customer service much easier to handle.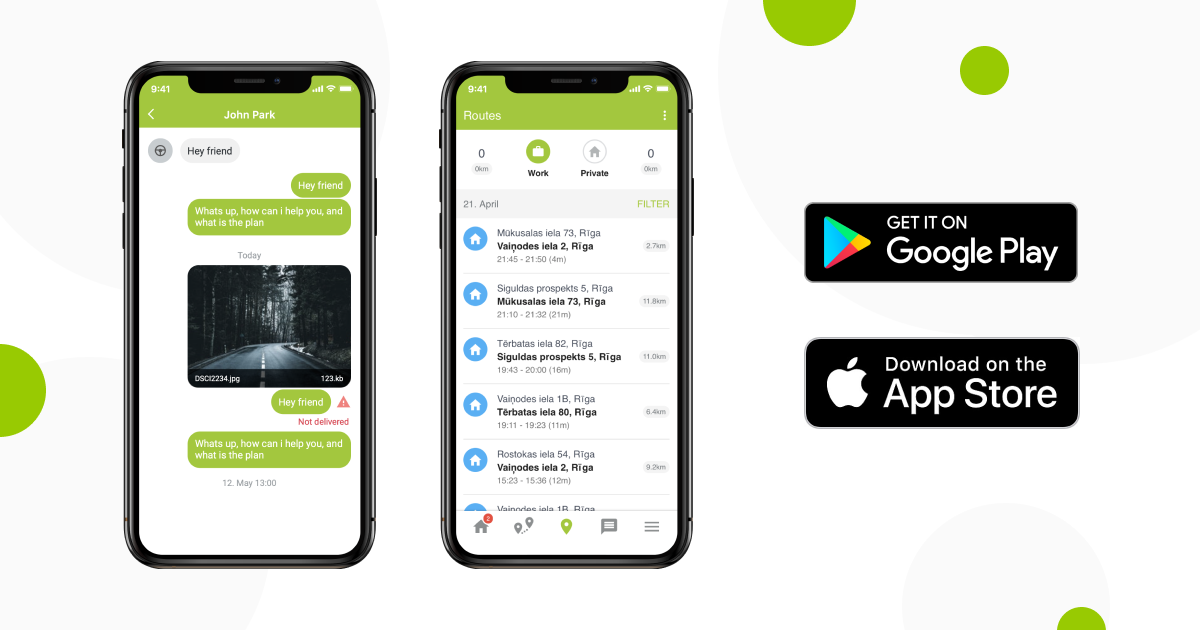 4. Downloading and analysing tachograph data remotely
There's strict legislation that requires you to download tachograph data at least once every 90 days and driver card data – once every 28 days. The regulation also determines how many hours the driver can spend working and resting. All these things can be done remotely using digital tachograph remote download solution that allows you to receive real-time information from tachograph as soon as the driver inserts his card in it. Moreover, fleet managers can enable the recurring file download once a day, a week, or a month, if necessary. Additionally, the solution can be easily integrated with various tachograph data analysis tools such as Tachogram and others to ensure the tachograph compliance anywhere, anytime.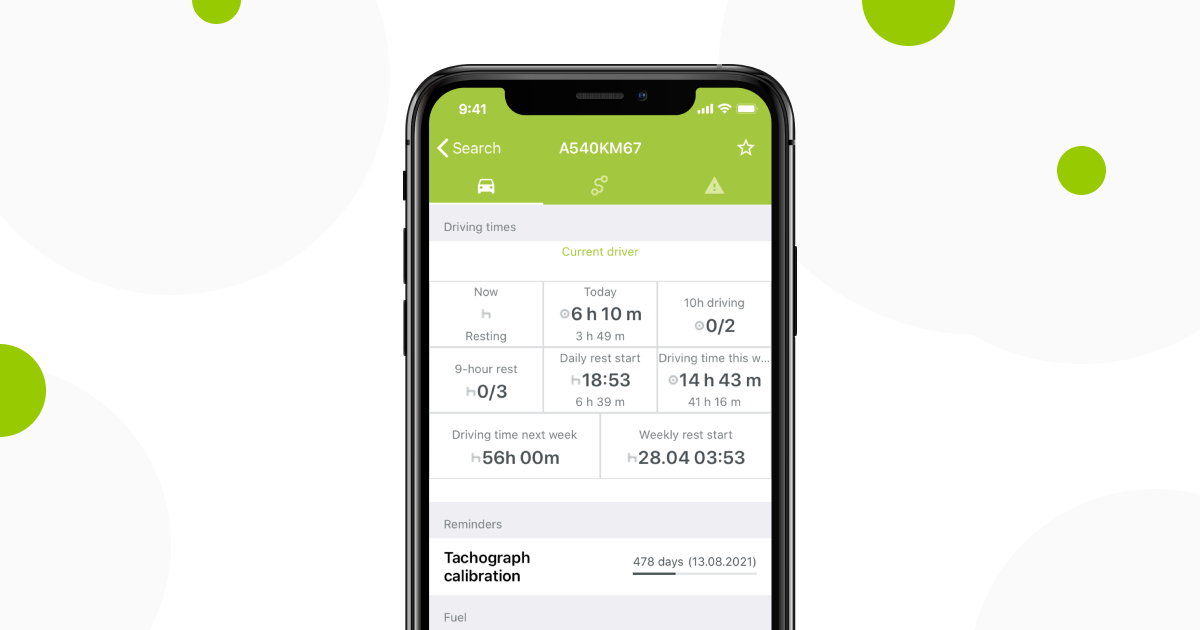 5. Integrations for more thorough business digitalisation
Digitising fleet management is only one step towards improving your business operations. You can also integrate your fleet management and asset tracking platform with other systems that your company uses for supply chain management, tachograph data analysis, purchasing route tickets, bookkeeping, etc. It's even possible to set up fuel card integration that allows you to receive automatic data about all refills made with your company fuel card and other individual solutions. Using API integrations will significantly reduce the time spent on manual data entry and improve the business process automation within the company. 
6. Automated fleet efficiency calculation
Each fleet operates with a different number and types of vehicles, therefore it's quite challenging to understand whether you have enough, too little or too many vehicles. Calculating the fleet efficiency is also a complex and time-consuming task if some of the vehicles are used only on specific hours of the day, driving when being operated or used in a stationary state. This issue can be easily resolved by using the automated fleet efficiency solution that provides transparent data about the state of your fleet on a specific date. It allows you to see the big picture, make timely fact-based decisions about the necessary changes in the fleet and, most importantly, will save your team many hours on manual efficiency calculations.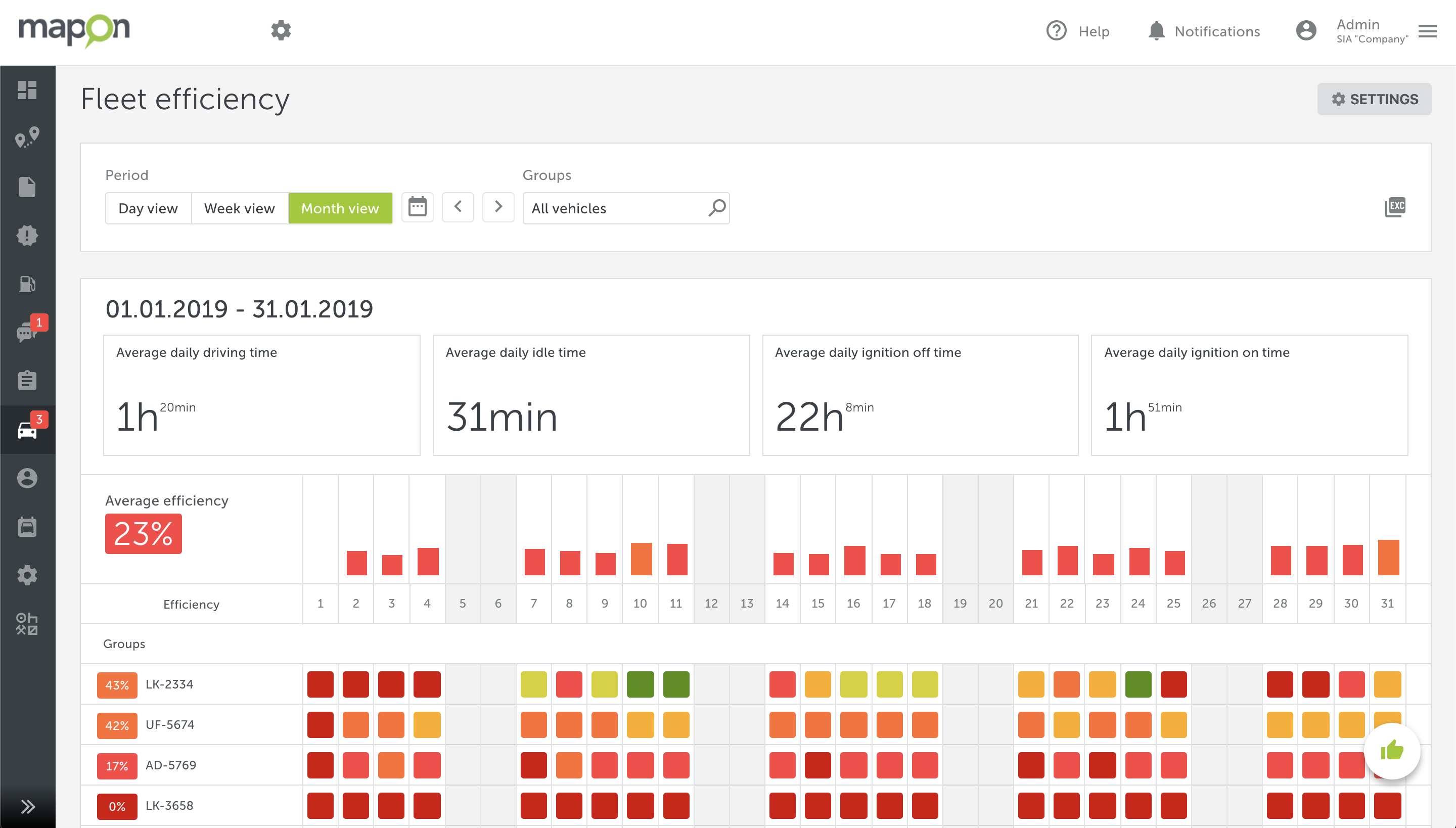 We already live in a digital era, and the pandemic will only increase the need for digitalisation. According to the Harris Poll reports, around 19% of small and medium businesses in the US have already switched their daily operations to the online environment, and many more will follow. It's become a necessity for all companies, regardless of their field of business. We, at Mapon, see it as an opportunity to automate as many fleet management processes as possible so you can pay your attention to other issues. Thus, if you think we might help you, get in touch with us and apply for a free online consultation to discuss your business needs!
Back to all posts
---