27. Dec 2017
Tired of overpaying for road tolls? Mapon has the solution
As anyone in the long-distance trucking industry will tell you, driving just across Europe is not as easy as just pressing the gear pedal and heading straight. From congestion charging to toll bridges and tunnels, there are so many different things a truck driver might have to pay for nowadays. In this blog post, we will discuss some of the more prominent examples of road taxation in Europe (because discussing all the various methods just in Europe would require an encyclopedia) and also how Mapon's solutions could help you save money in this regard.
What gets tolled?
The types and methods of road pricing vary from country to country, but they can be divided into various categories of which the main ones are:
– Toll roads and toll lanes: Toll roads are the most common, familiar and oldest form of road pricing. They are characterized as being single facilities with one or more tolling points. Most often they are bridges or tunnels, but also motorways or grade-separated highways. In all cases, the choice for users is between picking that road or crossing or taking an alternative route.
– Urban road pricing: Urban road pricing is when there are no alternatives in driving to a certain part of a city at certain times without paying and the chargeable event is crossing a certain point or movement within a zone. The best-known examples of this are congestion charging in London, Stockholm and Singapore (although there are key differences between all three), but also the Oslo toll ring. In most cases, this type of road pricing is introduced to reduce congestion by managing demand. In the Oslo case, for example, the road pricing was introduced to raise revenue to fund the road improvements and other transport infrastructure.
– Network road pricing: Network pricing is the unified charging of vehicles across a wide network that goes beyond a city. Such pricing may only be heavy vehicles (e.g. Switzerland LSVA, German LKW-Maut), or all vehicles (e.g. electronic vignettes in Hungary). It may be only on motorways (e.g. Austrian ASFINAG tolls) or on all roads (e.g. New Zealand Road User Charges). Generally speaking, such pricing is about recovering infrastructure costs, but may also be about managing externalities such as congestion and pollution. (reference)
Why are there tolls in the first place?
As can be seen, while there might be different ways of implementing road tolls, the main three reasons for them are: to recoup the cost of road construction and maintenance, to minimize traffic congestion in some areas and to lessen pollution, especially in urban areas.
When it comes to how the payment is taken for the use of toll roads, the methods vary as well: there are three main ones. Open (with mainline barrier toll plazas); closed (with entry/exit tolls) and open road (no toll booths, only electronic toll collection gantries at entrances and exits, or at strategic locations on the mainline of the road).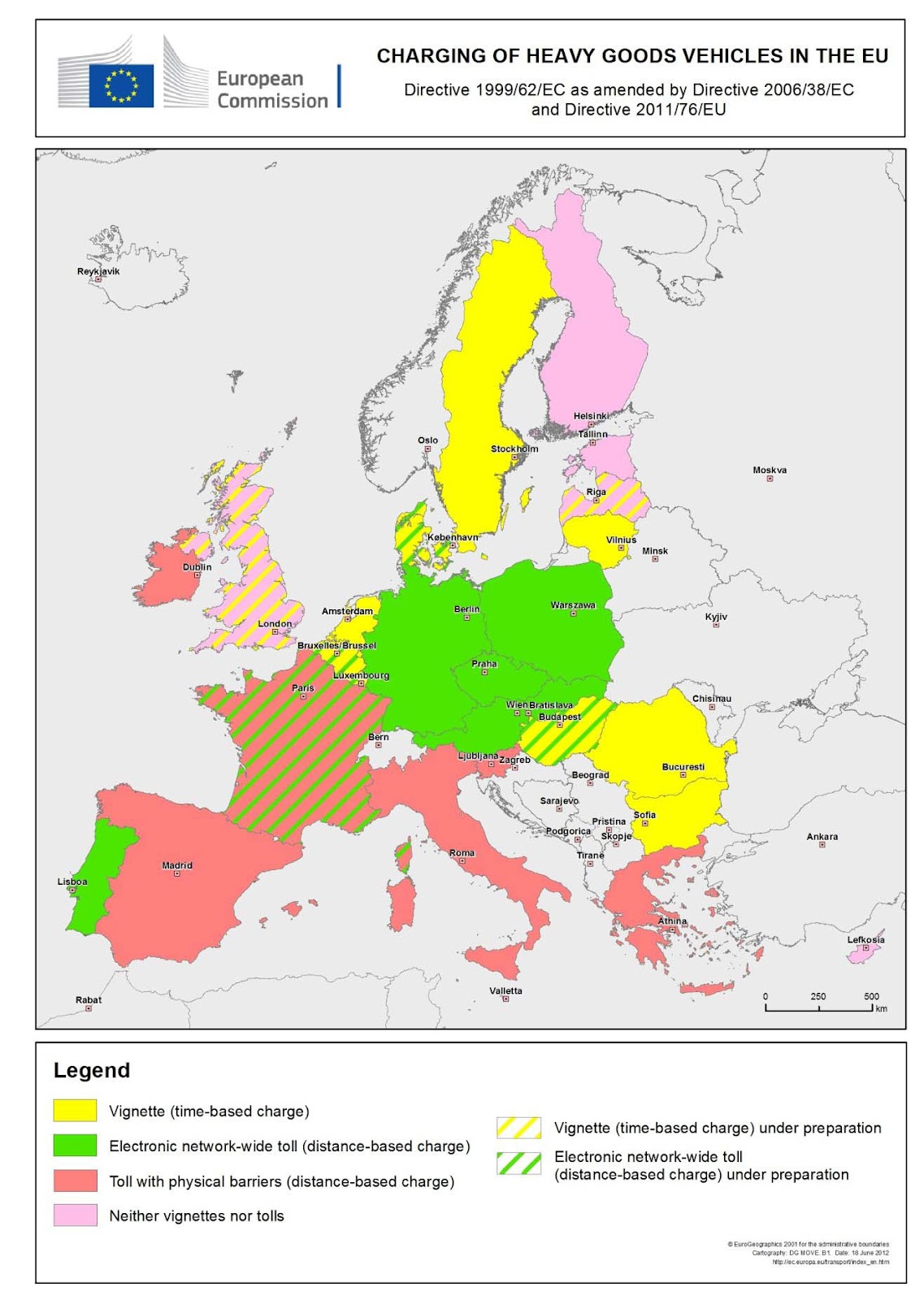 Source: https://ec.europa.eu/transport/modes/road/road_charging/charging_hgv_en
Almost all countries in Europe have a toll collection system of some kind, and more and more of them are becoming increasingly electronic. For example, Switzerland introduced a toll-system for Large Goods Vehicles over 3.5 tonnes in January 2001, and
Austria introduced an electronic toll collection system for lorries over 3.5 tonnes in January 2004.
Germany followed suit with a toll system for lorries over 12 tonnes on 1 January 2005. The German Toll Collect system is based on a technology using satellites; lorry operators may choose to either install onboard units for automated tracking of movements or to book their route in advance using the internet or computerized booking terminals.
Prices, of course, vary from country to country and from road to road. For example, Tunnel du Fréjus that connects France to Italy costs €43,50 to use, while the Pont de Trancarville bridge near Le Havre will only set you back €2,60. In Germany, only drivers operating vehicles above 7,5 tonnes are obliged to pay tolls, and, for example, Herrentunnel's (under river Trave) price varies from € 1,70 to € 8,10, depending on the vehicle's height, weight and number of axles.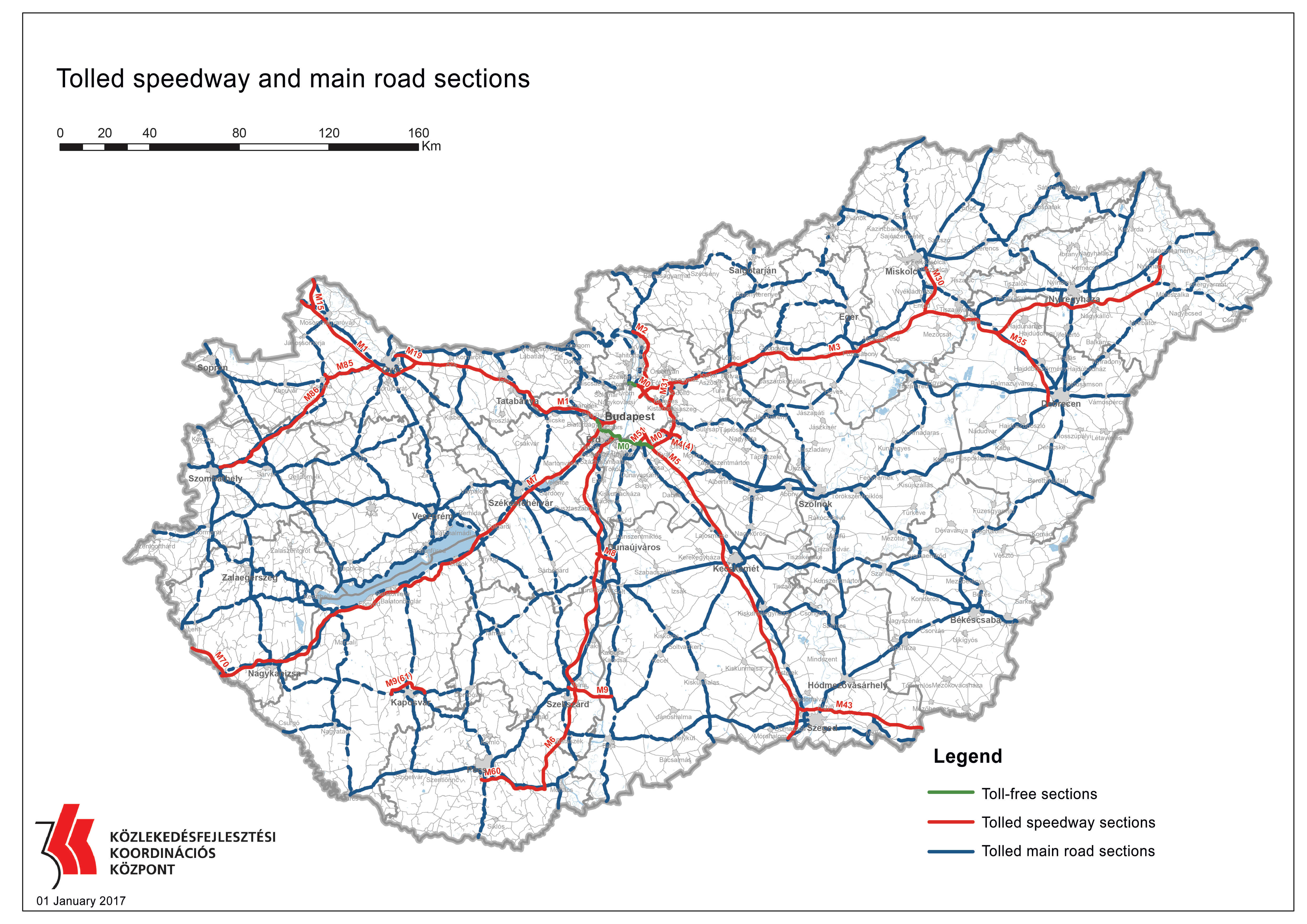 Source: https://www.hu-go.hu/articles/category/news
Hungary installed the e-toll system for lorries over 3.5 tonnes on 1 July 2013. Hungary is quite a specific example. It has an extensive network of tolled roads. The HU-GO system is based on self declaration which can be done by either purchasing a route ticket that assumes a predefined route or using an on-board unit (OBU). Furthermore, currently toll declaration is also possible with GPS tracking units and via telematics platforms like Mapon.
Currently Mapon is interconnected with HU-GO, using the Mapon Expert and Mapon Mini II devices, so users get tolled automatically, according to the route taken. The drivers only have to pay for the route taken and can use the historical data saved in the system as proof. This can help your drivers avoid a possible fine of 500 euros (per driver) for taking a wrong turn or a different road.
To integrate Mapon's system with HU-GO, you first need to register an account in the HU-GO system. After registration, you need to add information about all the vehicles which need this integration and which will use the HU-GO system. Under the section called "Vehicles attached to all accounts" add all the vehicles. In the category field also add information about the number of axles for the vehicles: J2 is for two, J3 for three – and so on.
In "Setting of vehicle category" select "with the use of Toll Declaration Operator". You will also have to add OBU ID and OBU PIN for each vehicle, which can be found on the Mapon system. HUG-GO OBU ID and OBU PIN can be gained from your Mapon account settings.
There are two main gains from this integration:
Time Saved

– drivers do not lose time stopping at gas stations to self-declare by buying electronic vignettes. Furthermore, if a driver wants to take different route that is quicker or has to due to road workings, he can do so, without worrying that he bought a ticket only for a predefined route. The Mapon system supplants the route toll in real-time, according to the route taken.

Avoiding Human errors

– with the help of our tracking system, users can avoid overpaying for a pre-paid ticket by driving a longer route than the one they paid for or vice versa. Furthermore, users don't have to worry about forgetting to buy a ticket, for example.
And HU-GO is just the start! With more countries in Europe adapting and developing similar tolling systems, Mapon is planning to adapt alongside them.
So watch this space!
Back to all posts
---