19. Oct 2022
Riches of the Gulf Tiger: Looking back at GITEX GLOBAL 2022
The Mapon team has returned home from GITEX GLOBAL – the largest annual technology event in the Gulf and North Africa. From October 10 to 14 Dubai gathered tech enthusiasts, business representatives and visitors from many different industries, giving us the opportunity to meet with existing partners, form new partnerships and showcase our all-in-one fleet management and asset tracking platform.
When talking about the main takeaways from the event, we can safely say that GITEX has returned to pre-pandemic form – both in terms of restrictions and people.
"Attendees came from the Arabian Peninsula, surrounding Middle East countries and North Africa, as well as from farther out. We even met our partners from Australia,"
says our Head of Export Sales Raivis Bondars. "It's great to see people visiting events like this en masse again."
Our export sales managers Armands, Toms and Pauls describe it as a very productive event. "We had our hands full, since Mapon solutions are very sought-after in the Middle East," remarks Armands. "Local governments showed a lot of interest in potential cooperation, as they have numerous projects where large-scale vehicle management could be extremely beneficial."
Our representatives highlight that visitors were intrigued by the driver behaviour and fleet route planning solutions. "Some more topics of interest included local hosting with servers on-site, data forwarding to local authorities and weight sensors on freight trucks," Toms adds to the list.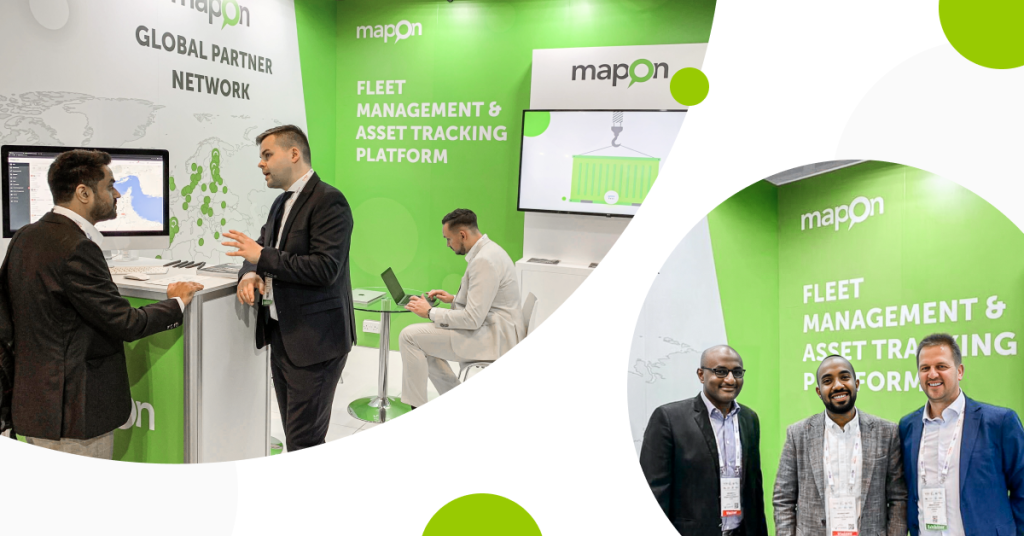 "The Middle East market has sky-rocketed and we're more than confident that our platform is suitable for the region and will greatly contribute to the development of the local economy in the future," says Pauls.
All in all, this felt like one of the most attended GITEX events we've experienced, at least after the pandemic. The Mapon team is grateful for all the interest shown in our solutions from potential partners and clients – our team is already looking forward to seeing you again next year! In the meantime, if you wish to inquire further about our products, contact us at partnerships@mapon.com.
Back to all posts
---