30. Sep 2022
Movement of the Future: Impressions from IAA Transportation 2022
This September, Mapon was invited to join the wireless beacon and sensor manufacturer ELA Innovation at their stand at IAA Transportation 2022, one of the largest transportation events in Europe. We asked the Export Sales team members who represented us to share their impressions and experience at the event.
Following the trends of the modern day, the emphasis of this year's IAA Transportation was on climate neutrality and how digital transformation in the transport sector can help us achieve it. Our Head of Export Sales Raivis Bondars says:
"This year's theme was very evident when passing by other stands and booths – a lot of exhibitors were showcasing the move towards electricity, for example, freight trucks and even reefers utilising batteries as their main power source to combat CO2 emissions. "
"Of course, the presence of electric vehicles was reflected in the spotlighted telematics platforms, as they integrate the various features offered by the technology. The event also showcased many different types of wireless sensors that focus on the ease of installation and use, for example, Bluetooth low-energy beacons for simpler asset tracking. A smaller but still very curious topic was AI and autonomous vehicles, serving as an insight to innovations of the future."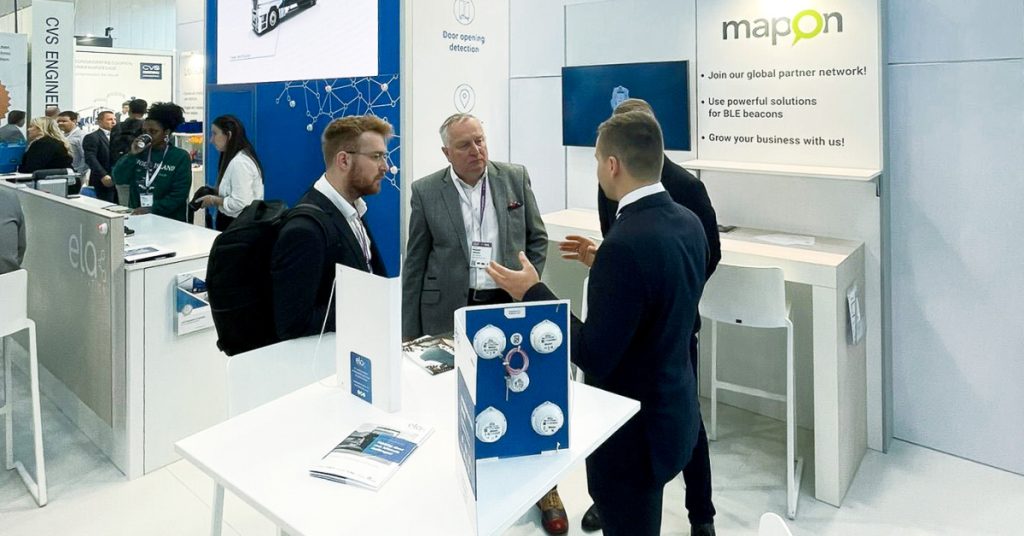 Our Export Sales Managers Kristaps and Irma describe participating in the event as an incredibly worthwhile experience. "We met with current partners from Germany and France, discussing business, as well as simply catching up with how they've been doing. We also met our device manufacturers with whom we spoke of further developing our cooperation to bring our clients and partners even more device options for even better prices. It's already agreed that one of the manufacturers will pay a visit to our offices this October to present their latest developments. Of course, in addition to all this, we met some brand new faces and we've already engaged in discussions of potential partnerships."
All in all, the event was a terrific opportunity for networking and establishing new opportunities, and the Mapon team appreciates everyone who came out to meet us. If the chance to return arises next year, we are sure to use it!
Back to all posts
---