17. Jun 2021
Why use BLE beacons for tracking your company's assets?
Why should you track your assets? Of course, there's no simple all fitting answer to this question because it depends entirely on your business and the assets it requires. However, the main reason is rather straightforward – it lets you know where your assets are. Depending on the use case it can streamline operations in different ways.
For example, in shipping, asset tracking can deliver customers precise estimated arrival times. In construction and agriculture, it can help to not lose expensive equipment. For asset rentals such as garbage containers or portable toilets, it can show the start and end of the service. And so on. The applications really are limited only by necessity and creativity.
Because of that, people have come up with plenty of ways and technological solutions for tracking assets. Nowadays, there's a huge variety of GPS tracking devices with different additional features such as sensors and inputs/outputs for connecting to other devices and transmitting the data to asset tracking systems. So why should you choose to track your assets using Bluetooth Low Energy beacons?
Why use BLE beacons?
First of all, compared to traditional GPS tracking units, they're very small and extremely easy to use. In most cases all you need to do is stick a BLE beacon on an asset you'd like to track. No specific skills or qualified technicians necessary. Secondly, they're also cheaper to buy and operate because of their simple design and functionality.
What's more, BLE beacons are very durable and due to their high energy efficiency, their battery can last up to twenty years depending on the specific model.
This in itself is a huge advantage because you don't have to worry about providing a power source for the tracking device.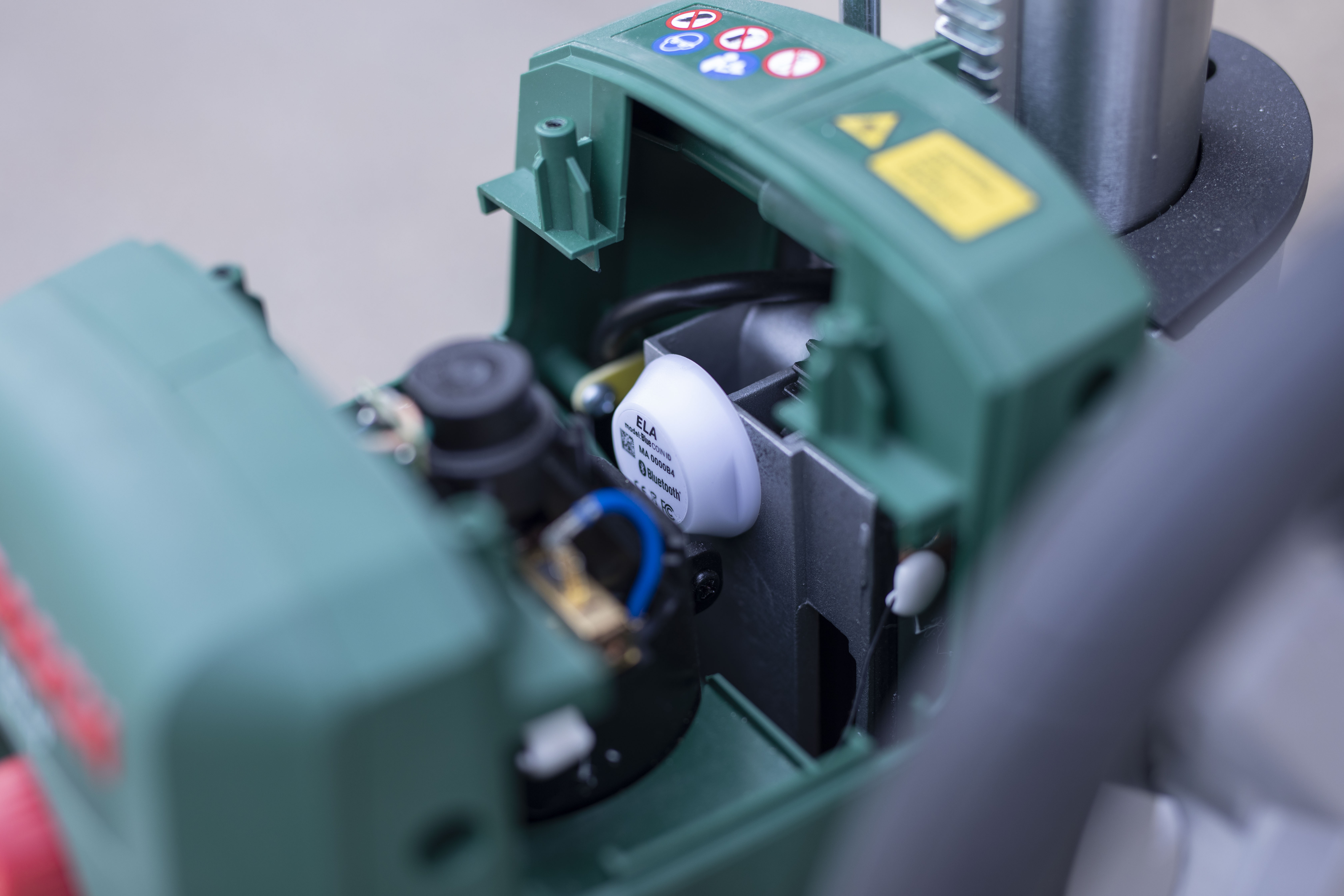 All of it makes them a perfect fit for tracking equipment such as power tools in construction and specialised machinery in agriculture, logging, and various other fields. However, they can also be used in any other scenario where you may want to track your assets. The above-mentioned large garbage containers and portable toilets, as well as portable saunas, vending machines, and food trailers, are prime examples. In these cases, not only can you oversee your asset location and manage them accordingly, but also create reports and invoices for your clients based on location changes.
How do BLE beacons work?
Unlike more traditional GPS tracking devices, BLE beacons are not actively sending their location data all the time. Instead, they're transmitting a radio signal. That way, they can stay more energy efficient. That's why the beacons require to be scanned by another device for their location to be set or changed. The scan happens automatically whenever a device capable of scanning the BLE beacons is within a predefined range, for example, 250 meters.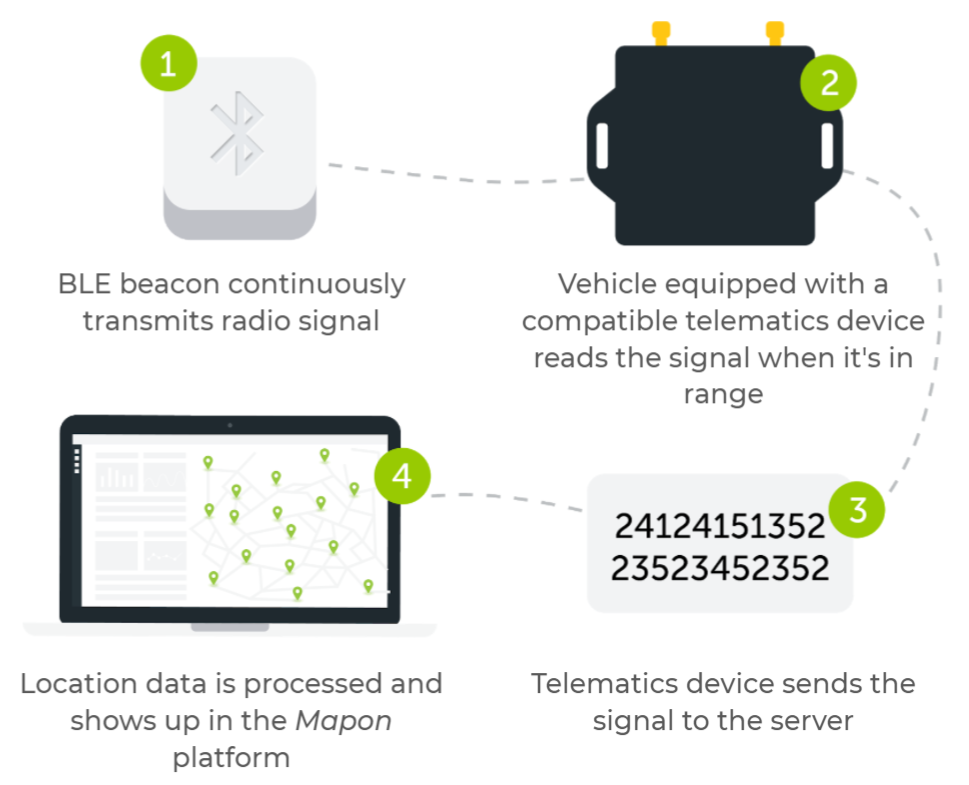 In practice, it means that a BLE beacon location is renewed in the Mapon platform every time a vehicle that's equipped with a telematics device capable of scanning beacons drives by or goes to the location your assets are at. Therefore, it can help you locate tools and equipment within the site or field your crew is working on and see if any of them are missing as well as when they were last present. Similarly, changes in location can also signal the end of a provided service when equipment is returned to the warehouse or moved to a new site.
If you're interested in trying out the BLE beacon tracking solution in your company or would like to find out more about its options and pricing, feel free to get in touch with one of Mapon client project managers or contact us via info@mapon.com.
Back to all posts
---